By Bob Crowley
CNN





BARRINGTON, Rhode Island (CNN) -- At the reception desk of Barrington Family Medicine is a large vase of flowers, and that's pretty much it. There's no secretary, no nurse, no office manager and no staff.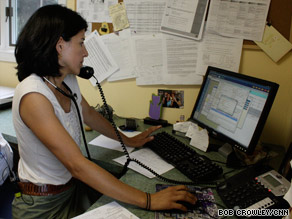 Dr. Andrea Arena says that "having fewer patients allows you to spend more time with them."
This is not a sign of cutbacks but rather is the design of its founders, Dr. Andrea Arena and Dr. Lisa Denny.
"I call it the Norman Rockwell approach to medicine," says Arena, who, with Denny, opened the practice over a year ago in Barrington, Rhode Island. They're part of a national group of doctors called Ideal Medical Practice, a concept these two physicians adapted to offer higher quality health care to a smaller number of patients.
Arena points out that in a traditional medical office, 50 percent to 60 percent of the costs can go toward overhead, such as office and medical staff. By relying on computer technology for things like prescriptions and referrals, Denny and Arena are not only able to run the practice themselves, but offer an hour-per-patient visit.

Watch the doctors inside and outside the office »
"Having fewer patients allows you to spend more time with them," says Arena, and it also means they don't have people waiting in that reception area with the large flower arrangement.
"We made a system that allows patients to be known and feel like they have access to their doctor and be heard," says Denny. She thinks that this is what medicine was like around 60 years ago, when doctor and patient really got to know each other.
Their patients agree.
"It's really the way medicine should be practiced," says Adi Goldstein. She's been coming to Barrington Family Medicine since it started. The medical care here, she believes, is similar to what she had growing up in Israel. "You have a relationship with your physician, so it's wonderful."
Another patient, Jennifer Hess, agrees.
"I love this practice," says Hess. In addition to being able to reach her doctor by phone and getting appointments promptly, she also enjoys exams that are thorough. "They don't miss anything," she says. "They go over everything."
The lack of time doctors have with patients, Arena feels, is part of a systemic problem with modern primary care medicine. It stems, she says, from practices needing to see large volumes of patients in a day to keep up with their costs. Arena and Denny both worked in more traditional medical practices before starting this small office of their own.
Don't Miss
"You need to see patients quickly in a traditional setting," Arena says. "If I had a fifteen-minute visit with a patient, I don't really have time to know if something else is bothering them. That's, I think, where you have the doctor holding onto the door handle saying, 'Everything else OK? Right? Nothing else is a problem?' Because you don't have time to address it if you get a positive answer."
Denny has similar feelings.
"That was us before," she says. "You can't see a patient every ten minutes, so you're going to end up being late." She says she would spend her entire day apologizing to patients for keeping them waiting. Denny and Arena feel what they offer their patients now is a better quality of care.
Both doctors also live in the same community as the practice. Arena will frequently use the adjacent bike path, not only for her commute but for home visits, too.
"Not many people do house calls," she says on her way to a checkup on a 2-week old boy -- a visit she is making by car rather than bicycle because it's raining. Because most of their patients live fairly close by, it's generally not a problem to do a home exam and get back to the office in the hour that is scheduled for an appointment.
"You can learn a lot by going to people's homes," Arena says, because you might notice something like a rug that could trip and injure the elderly person who lives there.
Naomi Malik, the mother of the newborn Arena has come to see, is thrilled she doesn't have to pack the car up with all of her children and head to the doctor's office.
"It's hard to get out the door with a newborn," she says, "so it's nice to have them come to you."
Working by themselves means doing other jobs in the office, but Denny points out that by not having to pay someone to scan an insurance card, she gets the tradeoff of getting to spend an hour with her patients.
"We couldn't have done this ten years ago," she says, and that's because their computers use software that takes care of referrals, sends prescriptions to the pharmacy and generates the bills that go to the insurance companies. The software even automatically e-mails appointment reminders to patients. The result is good for both patients and the doctors.

Denny and Arena job share because they both have their own families. Andrea usually works in the morning while Lisa takes the afternoons.
"We wanted a balance of being moms and being doctors," says Denny, "and we wanted to be the kind of doctors we were trained to be." She added that this type of medical practice has allowed them to spend more time with their patients and more time with their own kids. "It's not a stressful work environment," she says. "It's kind of fun."
E-mail to a friend

All About Health Care Policy