LONDON, England (CNN) -- There were 100,000 new cases of swine flu in England last week, nearly double the number from the previous seven days, authorities announced Friday.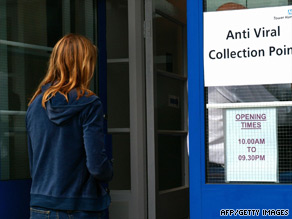 A person enters a clinic in east London.
Children 14 or younger were those predominantly affected, with those older than 65 showing much lower rates, the Department of Health said in its weekly swine flu update.
Most cases continue to be mild, the department said, but a small minority are severe.
The last weekly update showed 55,000 new cases. There is no figure for the week before that, but for the week ended July 3, there were 2,798 new cases. There were 1,442 new cases the week before that, according to department figures.
The Department of Health obtained the data from doctor's offices that report their consultations for flu-like or other acute respiratory illnesses. It said consultation rates at doctor's offices had risen sharply in the past week.
There are 840 patients hospitalized with swine flu in England, the department said.
The number of deaths related to swine flu is 26. That figure is the same as the week before, because some unrelated deaths were removed from the tally and others were added, the department said.
The death toll accounts for the number of people with swine flu who died, rather than the number of deaths solely attributable to swine flu, the department said.
Britain launched a service Thursday to give people advice about swine flu over the Internet and over the phone, and allow them to get antiviral medication if they show symptoms.
Don't Miss
In its first day of operation, the Web site experienced unprecedented demand, the department said, with 2,600 hits per second, or 9.3 million hits per hour.

Watch how Web site was overwhelmed »
The site did not crash, the department said, but it had to ask Internet service provider BT to quadruple capacity.
Workers at the call centers are not medical professionals, but are trained to ask callers a series of questions about their symptoms.
If a caller has symptoms, he gets a unique access number and is told where the nearest antiviral collection point is. He is then advised to ask a friend or relative -- a "flu friend" -- to pick up the medication for him.

The government advises people who suspect they have swine flu not to go to their doctor or an emergency room unless their condition worsens or lasts a long time, or if they are pregnant, have a child younger than 1, or have a serious underlying illness.
"The National Pandemic Flu Service will give patients access to information and antivirals as quickly as possible," Health Secretary Andy Burnham said. "It will free up (doctors) so they can focus their efforts on helping those in at risk groups and patients with other illnesses."
E-mail to a friend