By Anouk Lorie
For CNN





LONDON, England (CNN) -- Over the past 200 years, the treatment of wounded soldiers on the battlefield has changed dramatically, leading to higher survival rates than ever before.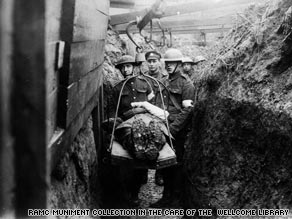 Trench warfare of the 20th century and high-tech industrialization of war, also meant horrific new injuries.
During the Napoleonic wars at the beginning of the 19th century, poor hygiene and a lack of antibiotics, meant many more soldiers died of disease than wounds.
The lack of mobile and field hospitals meant it could take days to get a wounded soldier to a hospital where they could be tended to.
It took just over a century for armies to realize that it is the treatment a soldier receives immediately after wounding that is crucial in the fight to save their life.
The concept of the "golden hour" -- that treatment in the first hour after wounding often means the difference between life and death -- was later reduced to the "platinum 10 minutes."
Despite a better understanding of trauma injuries, the high-tech industrialization of war in the 20th Century brought with it new, and more horrific injuries.
Demand for improved life-saving technologies followed: The world's first blood banks and plastic surgery are just two examples of important advances in military medicine that later changed emergency trauma care for the wider public.

As 21st Century wars become ever more complicated, the medical profession races to keep up with technological improvements including blood-clotting bandages and robot doctors.
Here we take a look at 200 years of military medicine.
E-mail to a friend