By Jason Hanna
CNN






(CNN) -- All 22 Shriners Hospitals for Children will stay open, but some eventually might become outpatient-only surgery facilities, the system that offers free specialty pediatric care said Thursday.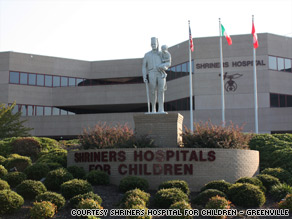 The Shriners hospital in Greenville, South Carolina, was one of the facilities eyed for possible closure.
The system, which has covered all costs of its patients' care throughout its 87-year history, eventually will accept insurance from patients who have it, members of the Shriners fraternity decided in their annual convention in San Antonio, Texas.
Accepting money from insurers and finding other ways to cut costs will help Shriners retain their presence in all 22 locations, said Doug Maxwell, the new president and CEO of Shriners Hospitals.
"Our membership affirmed that rather than closing any, we want to have that presence and take care of children in all those locations," though not all may remain inpatient facilities, Maxwell told CNN after the fraternity's convention ended Thursday.
The hospital system's board proposed months ago to close six hospitals largely because an $8.5 billion endowment fund lost more than $3 billion as the stock market plummeted last year.
Deflated investments weren't the only reason the fund dipped. The hospitals normally operate with the fund's interest and donations, but the system's $856 million 2009 budget was outpacing both, causing the hospitals to take about $1 million per day from the fund, the system said this year.
But delegates to the convention voted to withdraw the proposal to close the hospitals in Spokane, Washington; Erie, Pennsylvania; Greenville, South Carolina; Shreveport, Louisiana; Springfield, Massachusetts; and Galveston, Texas.

Learn about the Shriners fraternity »
Don't Miss
The hospital system has treated hundreds of thousands of children free of charge -- regardless of patients' ability to pay -- since the first facility opened in 1922. Most offer orthopedic care. Four, including the Galveston hospital, care for children who are burned, and some offer cleft lip and palate repair and spinal cord injury rehabilitation.
The system will continue to give care in these areas at no cost to the patients' families, he said.
One way to cut costs may be to transform some hospitals to outpatient-only surgery centers, Maxwell said. Many Shriners Hospitals have empty beds, in part because they were built during a time when many of their surgery patients needed to stay overnight.
But with advances in surgical techniques, fewer patients need to stay, so making some facilities outpatient-only might make sense, he said.
"The children that require overnight stays, we'll transport them to a larger Shriners hospital that do have the beds," said Maxwell, who was elected to his new position during the convention.
Eventually, he said, the system may have just eight regional inpatient hospitals, with the other 14 serving as outpatient centers. He didn't say which would make the switch or give a timetable for the possible changes.
Some centers also may move to smaller facilities, allowing Shriners to sell the old buildings to a nearby hospital that needs more space, Maxwell said.
Atania Gilmore, mother of a 9-year-old patient at the Spokane hospital, said she was relieved the facility is going to stay open.
Her son Grant, a scoliosis patient, has been fitted there for back braces for most of his life. He soon will need surgery to straighten the spine, and the plan is to have it there.
Gilmore, of Spokane, said she has private insurance and could have sought treatment for Grant elsewhere. But finances "weren't the only question" when it came to seeking care at Shriners, she said.
"Shriners, I don't think there's an equal to it," she said. "I trust the hospital completely to give us the right decisions and advice. ... They have so much compassion and care."
It may be a year or longer before Shriners accepts insurance and Medicaid, in part because the system needs to coordinate the move with insurers.

Weeks before the convention, Ralph Semb, then the Shriners Hospitals CEO, said the idea of accepting insurance and Medicaid had merit. But he cautioned that the hospitals would subject themselves to more oversight and possibly curtail their ability to treat patients as they see fit.
The Galveston hospital, which suspended its operations after Hurricane Ike flooded it last year, will reopen perhaps by Labor Day, Maxwell said. Some employees took other jobs, so the reopening date will depend on when the hospital can be staffed, he said.

E-mail to a friend

All About Shriners Hospitals for Children • Spokane