By Mark Tutton
For CNN





LONDON, England (CNN) -- Australia's Aboriginal people are at greater risk from the H1N1 virus, the country's health minister has warned.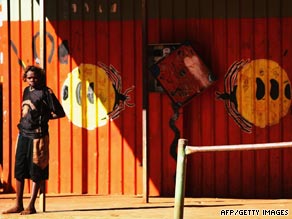 Health officials have warned that Australia's Aborigines may be more vulnerable to swine flu.
The warning comes as Australia's Royal Flying Doctor Service airlifted Aborigines with the virus, also known as swine flu, from remote communities to hospitals, according to a report by the Bloomberg news agency.
Last week a 26-year-old man from an Aboriginal community in Western Australia became the country's first swine flu-related death.
He died after testing positive for the H1N1 virus, although he had other serious medical conditions, including pneumonia.
Aborigines are considered to be more at risk from the virus as many have underlying health problems such as morbid obesity, diabetes and liver disease
Australian Health Minister Nicola Roxon said in an interview with Australia's ABC radio, "We know many of the chronic diseases that [Aboriginal people] suffer from are indicators that swine flu may actually hit them harder than some others in the community."
Dr Sophie Couzos, Public Health Officer with the National Aboriginal Community Controlled Health Organization, has been calling for a pandemic plan for Aboriginal peoples for the last four years.
She highlighted the potential problem three years ago at a national workshop hosted by the Department of Health and Ageing, showing that Aboriginal Australians could be especially vulnerable to flu pandemics because they have higher levels of chronic diseases, including diabetes and chronic renal failure.
Couzos said that 70 per cent of the Aboriginal population lives outside major cities, meaning they often have limited access to health services, and that remote communities are often poor, overcrowded and have a restricted water supply.
Australia's 460,000 Aborigines make up about two per cent of the population and have a life expectancy 17 years less than the national average. Australia has more than 3,500 confirmed cases of swine flu and has had five swine flu-related deaths.
But it's not just in Australia where indigenous communities are at risk. Dr Keiji Fukada, the WHO's interim assistant director-general, has said the WHO is monitoring reports of a disproportionate number of serious cases of swine flu among Canada's indigenous communities.
The Canadian Press news agency reports that in Manitoba Aboriginal leaders have declared a state of emergency in their communities because of swine flu.
The report says that while Aborigines only make up about 10 per cent of Manitoba's population, they account for roughly two-thirds of the people who have required intensive care for swine flu.
Canadian Prime Minister Stephen Harper last week said, "The truth is, we really don't know why H1N1 is more severe among certain populations rather than others, but it is a major concern, and the Department of Health is working with the communities affected to try to address it."
E-mail to a friend