LONDON, England (CNN) -- A total of 28 staff at the Wimbledon Tennis Championships have been asked to stay at home with suspected swine flu.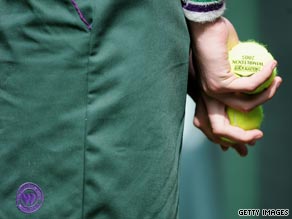 28 Wimbledon staff are reported to have suspected swine flu.
It was reported Wednesday that two players competing at the tournament are believed to have contracted the virus.
According to the UK's Daily Mail newspaper, the players are world number 29 doubles player Michal Mertinak and his fellow Slovakian world number 22 Filip Polasek.
Both are already out of the tournament. The paper reported that Mertinak pulled out of the mixed doubles because he was feeling unwell.
A spokeswoman for the the tournament's organizers, the All England Lawn Tennis Club, told CNN she could not comment on the players said to be affected with the virus.
She added that the number of suspected cases of swine flu among Wimbledon staff was no higher than the incidence rate in London as a whole.
The spokeswoman said: "In total, 28 people have been asked to stay home. Our medical officers advise any staff with flu-like symptoms to stay at home until they're better.
"They can back if they are free of symptoms for at least 24 hours and if they feel up to it."
Earlier this week, tournament organizers sent a letter to all competitors, advising them to take precautions against the virus after four ball boys and girls showed flu-like symptoms. Three of those are now back at Wimbledon.
The tournament organizers advised players to wash their hands after using the computers in the players' lounge, to cover their mouths after sneezing and not to re-use towels.
E-mail to a friend