By Elizabeth Landau
CNN





(CNN) -- As friends of pop star Michael Jackson discuss the role prescription drugs may have played in his Thursday death, the serious health problems that can be triggered by drug interactions are again in the spotlight.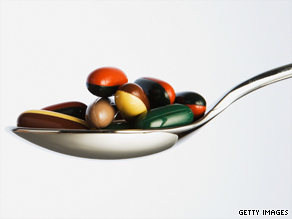 Some drugs have serious side effects in combination with other medications. Check with your doctor.
Dr. Deepak Chopra, who knew Jackson for more than 20 years, on Friday told CNN's Wolf Blitzer that he blamed Jackson's death on drug abuse, though he offered no direct evidence. "When you have enough drugs in your system, your heart goes into an arrhythmia and your respiration stops," he said. "I think the drugs killed him."
Authorities said Friday the cause of Jackson's death will not be determined officially for weeks. The results of toxicology tests are expected in six to eight weeks, said Ed Winter, assistant chief coroner for Los Angeles County.
Chopra said he had known Jackson to take the opium-derived painkiller OxyContin at one time, as well as injections of the narcotic pain reliever Demerol "and other narcotics, and I was really desperate to try to help him, but you know you can't help somebody who would go into denial."

View a timeline of Michael Jackson's life »
Studies have shown that drug interactions are a huge problem, especially among older Americans. A 2008 study in the Journal of the American Medical Association showed that about 2.2 million people age 57 to 85 were taking potentially dangerous combinations of drugs.
Demerol can have serious interactions with the class of antidepressants known as MAO inhibitors, with effects ranging from increased heart rate and higher blood pressure to cardiac arrest. Tricyclic antidepressants and sleep aids may also have these interactions with Demerol, said Dr. Eugene Viscusi, director of pain management at Thomas Jefferson University Hospital in Philadelphia, Pennsylvania. Viscusi was not involved with treating Jackson.
In a widely publicized case of fatal drug interaction, an 18-year-old named Libby Zion died in a New York hospital in 1984. Zion had reportedly been taking the antidepressant Nardil, and the combination of the drug with the Demerol she received at the hospital is believed to have resulted in her death.
Don't Miss
Many drug interactions occur because of the way they are metabolized in the liver, said Lois Parker, senior pharmacist at Massachusetts General Hospital.
"If you have medications that are handled through the liver in the same way that others are, that can cause interactions," she said.
The Food and Drug Administration highlights several interactions between drugs and various substances on its Web site.
For example, taking Cordarone, which corrects abnormal heart rhythms, with Zocor, which lowers cholesterol, may lead to a rare muscle injury called rhabdomyolysis, which may result in kidney failure or death, the FDA said.
Lanoxin, used for the treatment of heart failure, may cause irregular heart rhythms in increased doses. The level of this medication in the blood may rise when taking other drugs, such as the HIV drug Norvir, the FDA said.
Even over-the-counter medications can have risky complications when mixed with other substances, experts say.
Antihistamines, used to ease symptoms of allergies, may increase the sedative effect of a medicine that already has sleepiness as a side effect, and may impair a person's concentration, making driving or operating machinery potentially hazardous, the FDA warns. With blood pressure medication, antihistamines may speed up a person's heart rate and elevate blood pressure.
Health Library
Ibuprofen, found in Advil and Motrin for instance, may cause excessive bleeding in combination with anticoagulants, Viscusi said.
Drugs containing acetaminophen, the primary ingredient in Tylenol, can lead to liver damage in conjunction with chronic alcohol consumption. Blog: Is it safe to take Tylenol after drinking?
People who take dietary supplements should also watch out for interactions with drugs, experts say. Antioxidants may interfere with breast cancer treatment
St. John's Wort, which induces liver enzymes, can reduce the concentrations of medicines in the blood. These include Lanoxin, Viagra, and the cholesterol-lowering drugs Mevacor and Altocor, the FDA said. The herbal supplement has also been shown to interact with some birth-control pills and antibiotics, Parker said.
Ginseng in combination with MAO inhibitors such as Nardil or Parnate may lead to hyperactivity, sleeping difficulties, headache, and nervousness, the FDA said.

The National Institutes of Health has a list of herbs and supplements, along with information about interactions.
Experts recommend that people who take multiple medications tell their doctors so that nothing that would interact is prescribed later. Patients should also get all of their prescriptions filled at the same pharmacy so their drug information gets stored electronically and pharmacists can review possibilities of interaction before dispensing a new drug to a patient.
E-mail to a friend