By Val Willingham
CNN Medical Producer





BALTIMORE, Maryland (CNN) -- When Linda Campbell of Lexington, North Carolina, started to lose her vision in winter 2000 she knew something was wrong. After a diagnosis of ocular melanoma, a rare cancer, she went through numerous treatments to save her eye. Despite one recurrence, by 2007 Campbell was pretty sure she had beaten the odds. That was until last year, when her doctors found lesions on her liver. Her melanoma had spread.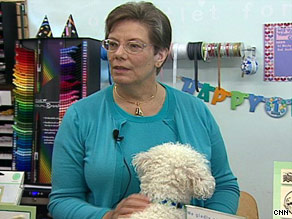 After an experimental cancer treatment, Linda Campbell has returned to work, with her dog Peanut.
"It was pretty devastating," she said.
Scans showed Campbell's liver was peppered with cancer. There were so many spots, they were impossible to count.
Her prognosis was bleak, until Dr. Richard Alexander, a surgical oncologist at the Greenebaum Cancer Center at the University of Maryland Medical Center, recommended she try a new treatment he had worked on at the National Institutes of Health, specifically designed to target melanoma that has spread to the liver.
Although it was experimental, Alexander told Campbell the therapy was well suited to her, because the treatment directs a very high dose of chemotherapy precisely to the region of the body where the cancer is growing.
The procedure, called percutaneous hepatic perfusion, or PHP, targets tumors with a dose of chemotherapy 10 times stronger than patients could otherwise tolerate. Doctors use a specially designed system of catheters and filters to apply the cancer-fighting drug only to the liver, reducing the risk of damaging nearby organs and minimizing possible side effects.

Watch more on PHP »
Health Minute
Watch for Health Minute on Headline News
10 a.m. -6 p.m. ET weekdays

"Patients wouldn't be able to tolerate this high-dose chemotherapy given intravenously to the entire body, but they generally tolerate this procedure quite well, with very few side effects, when it's administered this way," Alexander said. That's because the liver is resilient and unlike other organs can tolerate large amounts of chemotherapy. By sealing off certain vessels from the liver to the rest of the body and filtering the chemo out of the body, the rest of the system doesn't receive the poison, doctors said.
During the procedure, patients receive doses of a drug called melphalan for 30 minutes every four weeks. The treatment takes place in an operating room while the patient is under an anesthetic. The chemo drug is delivered by a catheter that is threaded up a major artery in the patient's groin into the main artery that goes into the liver. Another catheter is placed in the major vein behind the liver, and balloons on the catheter are inflated to direct all the blood flowing out of the liver into a filter outside the body. This filter system removes almost 90 percent of the chemotherapy from the blood, and the blood is then given back to the patient through a catheter placed in a large vein in the neck.
Don't Miss
"This technique involves only a couple of small holes [in the skin] to place the catheters, so patients generally recover quickly and are released from the hospital in a day or two," said Dr. Fred Moeslein, an interventional radiologist at the University of Maryland School of Medicine who performs the procedure. Side effects may include fatigue and lower red and white blood cell counts. Most patients can receive four to six treatments.
Doctors say PHP is an important step because people who have this form of cancer usually don't live very long. Slightly fewer than 70,000 new cases of melanoma will be diagnosed this year in the United States, according to the American Cancer Society. Although it is not the most common of all skin cancers, it is the most deadly. Ocular melanoma is much rarer, with about 2,500 new cases detected each year. The cancer is often lethal if it spreads to the liver, which is the most common site for it to metastasize.
"Once melanoma -- in particular ocular melanoma -- has spread to the liver, it can be very aggressive and extremely difficult to treat," said Alexander. "Patients really don't have a lot of options, so we're very hopeful that this new targeted chemotherapy will prove to be effective."
The University of Maryland Medical Center is one of 13 sites conducting phase 3 trials on PHP. The entire study is headed by the National Cancer Institute. The trials are designed to see whether this dose of melphalan using PHP is successful in treating or shrinking liver tumors. Researchers also want to see whether patients undergoing PHP suffer from serious and long-lasting side effects. NCI officials said the previous phase 2 trials were "very successful."
Alexander called the initial results promising. "Half of the people in the phase I study had their tumors shrink as a result of the treatment," he said. "In some, the tumors have disappeared altogether."
Moeslein agreed. "If you looked at their scans initially and then looked at them after treatment, it's hard to believe it's the same patient," he said.
But it's not all that easy on patients. The therapy can be intense. Many patients are exhausted after treatment and are so wiped out they need bed rest; others say they have blood issues that require further hospitalization. But once the effects subside, many patients eventually bounce back and return to their regular routines.
Health Library
Although the study focuses on melanoma, both doctors said, this treatment might also be used someday to treat other forms of the disease, such as colon cancer or breast cancer, that spread to the liver.
Researchers at the University of Maryland Medical Center as well as other institutes are still looking for melanoma patients with inoperable tumors in the liver to enroll in their studies. To be eligible, the patient's cancer had to begin in either the skin (cutaneous melanoma) or the eye (ocular melanoma). For more information about the clinical trials, go to http://www.livercancertrials.com/.
Campbell's treatments are over. Although her last one was "really tough," since March, only a few spots remain on her liver. Doctors believe they can treat those with traditional therapy.

Her memory is a little slow at times and she tires easily, but Campbell said she is doing very well. So well, she just got back from Disney World a few weeks ago, where she and her family celebrated her 60th birthday, a birthday that friends and doctors felt she would never see. Campbell said she owes it all to her doctors and the PHP treatment.
"I wouldn't be alive," she said, shaking her head. "I don't think I would be alive today, if I didn't have the treatment."
E-mail to a friend

All About National Institutes of Health • Liver Cancer