By Grace Wong
For CNN






LONDON, England (CNN) -- The number of swine flu cases is closer to reaching 30,000, the World Health Organization reported Friday, a day after declaring the start of a global pandemic.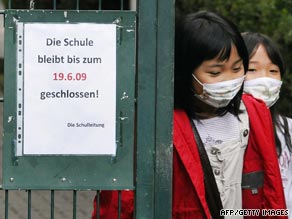 Children leave a Japanese school in Germany which has been closed following a swine flu outbreak.
As of Friday, 29,669 cases of the H1N1 virus have been reported in 74 countries, the WHO said. The total number of deaths worldwide has reached 145.
The latest figures come a day after the WHO said the virus was "unstoppable" and had become widespread enough to raise the global swine flu alert to its highest level.
The U.S. and Mexico, where the earliest cases of the outbreak occurred, remain the countries with the highest number of swine flu cases.
There have been 13,217 reported cases in the U.S. and 6,241 in Mexico.
The WHO has been updating the number of global flu virus cases on a nearly daily basis since the outbreak emerged in late April.
The U.S. Centers for Disease Control and Prevention is due to provide its weekly update of cases on Friday. A total of 27 deaths have been reported in the U.S.
Vital Signs
Each month CNN's Dr. Sanjay Gupta brings viewers health stories from around the world.


Outside of the U.S. and Mexico, countries hit hard by the virus include Canada (2,978 cases); Chile (1,694 cases) and Australia (1,307 cases).
The WHO's decision Thursday to elevate its swine flu alert indicates that the first flu pandemic of the 21st century is underway.

See photos of swine flu going global »
Are you worried about the flu pandemic? Tell us what you think in the SoundOff below or send us an iReport
The move was widely expected, as global health officials have warned about the potential for the virus to become a pandemic since the first cases of swine flu surfaced.
When WHO Director General Margaret Chan declared the pandemic, she noted that the number of deaths resulting from H1N1 has remained small so far and that a spike is not anticipated.
No pandemics have been monitored at such an early stage before, she added, which gives the world a "head start" to combat the virus.

Watch to see what the WHO declaration means »
Don't Miss

The H1N1 virus is a type of swine flu. Symptoms resemble those of the common flu and include fever, sore throat and body aches.
The virus is transmitted through human contact and spreads particularly rapidly among young people. It cannot be spread by eating pork or pork products.
E-mail to a friend

All About Swine Flu • World Health Organization