By Val Willingham
CNN Medical Producer





(CNN) -- As the summer months creep ever closer, trying to achieve the perfect set of abs can seem like a lost cause.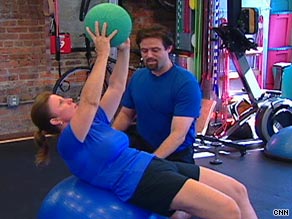 Crunches are good, but not enough, to help get fab abs. Dietary changes and other exercises are also needed.
Just ask Josh Thomas. A self-proclaimed "gym rat," Thomas does more than 100 crunches a day, but when it comes to the look of his midsection, he says he's a little disappointed. "I still don't have the definition I've been working for," he groans. "And I've been working on those muscles for over six months."
Thomas is far from alone.
Nutritionists say a set of awesome abs takes more than just doing sit-ups. "New research shows that what you are eating may be just as important as your workout," says Katherine Tallmadge, author of "Diet Simple" and a spokeswoman for the American Dietetic Association.
So how can you get abs like Mario Lopez, Gerard Butler or Beyonce? Combining workouts with a good diet leads to the most defined abs. Tallmadge suggests giving your diet a makeover: Fill it full of fiber, high quality carbohydrates (like fruits and vegetables) and plenty of protein.
"Fiber cuts down on bloating, carbs rev up your energy and protein builds muscles," Tallmadge says, noting that the last point is important as people get older. "We lose muscle as we age. So even if you are doing your ab workout [but] not eating properly, you are not building up your abs."

Dr. Gupta: Watch more on how to get fab abs »
Getting enough protein also helps to keep weight down. "Losing muscle decreases resting metabolic rate, making it harder to maintain a healthy weight and lose body fat," says William Evans, director of the Nutrition, Metabolism and Exercise Laboratory at the Donald W. Reynolds Center on Aging at the University of Arkansas for Medical Sciences.
In addition, bone health, muscle function, muscle strength, muscle mass and immune function are all affected when the body doesn't get enough protein.
That means adding moderate amounts of lean meat, seafood, chicken, skim milk and low-fat yogurt to your diet. All are excellent sources of protein and won't pack on the pounds.
In addition to revamping your diet, increase the amount of water you drink. Tallmadge says a lot of people think that drinking too much water gives them "puffy abs" but the reverse is true. "Not drinking enough water will leave you bloated," Tallmadge says. "You need enough water to flush out water and salt in your tissues, so you can be lighter and not be bloated."
She says an easy way to tell whether you're getting enough water is to check the color of your urine: If it's pale yellow, that's good; if it's dark, dehydration may be an issue. And watch what you drink. Too much alcohol and caffeine can dehydrate you, because they're natural diuretics and can cause you to lose body fluids.
Health Library
But most important, chill out. New research shows that stress triggers the hormone cortisol, which increases your appetite and promotes fat deposits around your abs. "Not only does this keep you from packing a six pack, studies have shown extra belly fat is also associated with heart disease, diabetes and some forms of cancer," Tallmadge says.

All this doesn't mean that exercise isn't important -- it is. Tallmadge recommends adding strength training and cardio workouts to those sit-ups. Strength training builds up the core muscles, and cardio burns fat. In fact, a recent study conducted at the Fred Hutchinson Cancer Research Center in Seattle, Washington, showed cardiovascular exercise is especially effective in reducing midsection weight gain.
As for Thomas, he says he always thought exercise was the key to the perfect hard body. Now he says he plans to combine these diet tips with the right exercise and hopes to be sporting fab abs by the middle of the summer.
E-mail to a friend

All About Diet and Nutrition • Exercise and Fitness