By Tom Watkins
CNN





(CNN) -- Diabetes advocates are applauding President Obama's selection of Sonia Sotomayor, the 54-year-old New York jurist who was diagnosed with the type 1 diabetes when she was 8.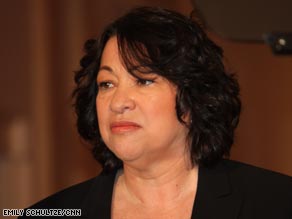 Diabetes advocacy groups have applauded the nomination of Sonia Sotomayor to the Supreme Court.
"It's a great thing," said Dr. Paul Robertson, president of medicine and science for the American Diabetes Association said after the announcement Tuesday. "It's wonderful for diabetics. I think it will go a long way toward being a major push against the stigma that some people with diabetes feel."
Uncontrolled diabetes is marked by high blood sugar, which can lead to complications such as an increased risk of peripheral nerve disease, eye disease, kidney disease, heart attack and stroke.
But plenty of professional athletes excel at their sport while controlling the disease, and serving on the nation's high court should be no more of a challenge, Robertson said.
"This is not rocket science to take care of yourself these days if you have type 1 diabetes," he said.
Some jobs, like truck driver, surgeon and pilot, used to be off-limits to insulin-requiring diabetics, who could temporarily lose awareness of their surroundings if they were to allow their blood sugar to drop too much. But such limitations are changing in the face of a flurry of litigation from people who are in good control, he said.
"I don't know any jobs you can't have today," Robertson said.
Don't Miss
Sotomayor, who would be the first type 1 diabetic on the high court if confirmed, was "religious" about monitoring her blood sugar levels, said Rudy Aragon, an attorney in Miami, Florida who attended Yale University Law School with Sotomayor.
"It's been an issue with her, but she's overcome that. She overcomes it every day," Aragon said. Read more of what classmates say about Sotomayor
Sotomayor's friends from law school say she did not talk much about her condition. Probably only her closest friends knew about it, Aragon said.
"It never affected her in law school, not once," he said.
Bill Ahearn, vice president of Juvenile Diabetes Research Foundation International, expressed delight at the news of Sotomayor's selection.

Learn more about Sotomayor's life »
"It's a great educational moment for people in general," he said. "They can see that people that have type 1 diabetes have just as great a chance of success as anyone else."
He said that keeping blood sugars within the narrow parameters that define normal can be onerous for type 1 diabetics.
"They have to be a mathematician, a doctor, a dietitian all rolled into one. It takes a lot of work, but it's achievable."
Ahearn said the life expectancy of a type 1 diabetic in good control "should be the same as for someone who doesn't have type 1 diabetes."
Asked about the life expectancy of someone who was diagnosed with the disease nearly a half-century ago, ADA's Robertson said, "You would have to know what the management has been like, what the complications have been like."
But he said that anyone able to excel at Princeton University and Yale University, as Sotomayor did, likely would have been able to master the variables that can affect blood sugar.
"It was just another obstacle that she blew away," Aragon said.
A spokeswoman for the Centers for Disease Control and Prevention said the agency does not track life expectancy based on disease.

Learn about the other Supreme Court justices »
According to Ron Gebhardtsbauer, an actuary at Penn State University's Smeal College of Business and former senior pension fellow at the American Academy of Actuaries, a 54-year-old woman's average life expectancy in 2009 is 86.2 years.
Key to Sotomayor's chance of living that long, said ADA's Robertson, would be her blood-sugar control. The endocrinologist and professor of medicine and pharmacology at the University of Washington in Seattle said that, if he were vetting the candidate, he might check the results of her A1c tests -- a measure of long-term blood-sugar control.
Health Library
"If I were hiring somebody to fly my private airplane, I would probably want to know," he said. "Not that I have a private airplane."
Typically, people in Sotomayor's socioeconomic group would score a 7 to 8 percent on the test, with a nondiabetic scoring about 5 percent.
If the test result came back 13 percent, "you'd say how responsible is this person?" he said.
Sotomayor has not made public her level of control.
"She has always been matter-of-fact about it, while obviously taking care of managing it," said Martha Minow, a professor at Harvard Law School who attended law school with Sotomayor, in an e-mail.
"It's nice to have a diabetic and another woman in the Supreme Court," said Dr. Richard K. Bernstein, a diabetes specialist who was diagnosed with the disease himself at age 12, more than 70 years ago.
"Most diabetics who have had diabetes that long are not in good physical condition," said Bernstein, author of "Diabetes Solution," a book on the subject. "She may be very unique."
He said he, too, would probably check her A1c values before offering her the Supreme Court job.
Bernstein said he would like to see her A1c value around 5 percent, lower than the level recommended by the ADA. "But remember," he said, "I'm an extremist."

About 1 million to 3 million Americans have type 1 diabetes, which used to be called juvenile-onset diabetes, according to the JDRF.
Type 2 diabetes, formerly referred to as maturity-onset, affects about another 17 million people, according to the ADA. This is the form of the disease associated with obesity and lack of exercise and its incidence has grown in recent years, particularly among Latinos and American Indians.
E-mail to a friend

CNN's Elizabeth Landau contributed to this report
All About Diabetes • American Diabetes Association • Sonia Sotomayor