By Madison Park
CNN





(CNN) -- The case of Daniel Hauser, a Minnesota teenager whose family rejected chemotherapy based on religious beliefs, raised questions about the rights of parents in determining medical treatments for their children. On Tuesday, the family consented to chemotherapy for the 13-year-old to treat his Hodgkin's lymphoma after the boy's tumor grew.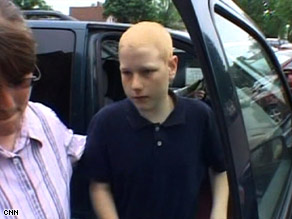 Daniel Hauser, arriving in court Tuesday, was allowed to stay in his parents' custody.
Hauser's case is not the first in which the government stepped in after parents made unconventional medical decisions for their children and it won't be the last.
Four individuals involved in past medical-religious controversies spoke to CNN about their dilemmas.
Pamela Hamilton
When Pamela Hamilton, 12, heard the judge's ruling in 1983 that forced her to get chemotherapy for bone cancer, the girl wept as she clung onto her father.
After hearing about the side effects of chemotherapy, Pamela "did not want to take it. It made her so sick. All the things that the chemo and radiation does, it burns you from inside out," said her stepmother, Deborah Hamilton.
Pamela's parents said chemotherapy violated their religious beliefs -- they belonged to the Church of God of the Union Assembly, which believes only God can heal.
"We had been raised to rely on faith," said Hamilton. "That if we die, it's because it's our time. And [Pamela] didn't want to take all that chemotherapy stuff. She had been told what would happen. There was a chance that wouldn't help either."
Pamela, a Tennessee teenager, unwillingly received chemotherapy.
Don't Miss
"Her skin -- it had red splotches all over it from the radiation," Hamilton said. "Of course she hated it when it took all of her hair. And by the time it did consume her, it was so bad. They sent her home. ... She would just want to sleep a lot. She was groggy. She hated it a lot. She was so full of life and I think a person that has been in so much pain, been dealt with all that, they get tired."
Two years later, Pamela died.
"She had to go through all that suffering on top of what she was suffering from the beginning," Hamilton said. "In the end, it's God's decision whether you live or die."
Paul Michener
When Paul Michener was 9 years old, he accidentally burned his leg in a gasoline fire at his parents' farm near Waynesville, Ohio.
"It burned from the ankle to above the knee," Michener said, now 72. "I went into the house and all I got was screaming and preaching."
His father wanted to take him to the hospital, but his mother disagreed. Her remedy "was reading the good book. It was suppose to heal the pain," Michener said. Instead, he lay in bed for two and a half years without seeing a doctor or receiving any treatment.
When Michener questioned his Christian Scientist parents about getting care, "All I got was that it was sin. We were doing the right thing," he said. The school superintendent tried to get the state to intervene, but nothing happened.
After six months, the pain subsided gradually. "If it got bumped, it was terrible. I look back and think about it. I don't know how I got through it," Michener said. "What kept me from dying, I have no idea."
He left the Christian Scientist faith and never resolved issues with his mother. "You wanted to experiment with my life. Why don't you experiment with yours?" he recalled saying to her.
"How could any parent who considered themselves a parent do such a thing to a child?" said Michener, a father of two and grandfather of five.
His injured leg is four inches shorter than his other leg and has skin grafts. Reflecting on his parents' decision to withhold medical care, Michener said he wished someone intervened on his behalf during his childhood.
"If the child doesn't get help, he's under 16, the state ought to do something," Michener said.
Shirley Cheng
Seven-year-old Shirley Cheng had a severe, but not life-threatening, case of juvenile rheumatoid arthritis. Her doctors at a Connecticut hospital warned she would need an operation on six of her joints or she would never walk.
Her mother, Juliet Cheng refused the surgery on the basis that no medicine could control the inflammation, and sought alternative treatments in China. In July 1990, the state intervened and gained temporary custody of the 7-year-old.
"I was terrified, because I knew if my mother lost the case, my fate would fall in the hands of total strangers," said the younger Cheng. "They would decide what they would do to my body. I had no voice."
Cheng said she resented the intervention. "I knew what was going on with my own body," she said. "The decision is a family process. I knew I was capable and competent at 7 to make a medical decision."
After a five month court battle, her mother regained custody. Cheng was never forced to have the surgery. Now 26 years old and living in Wappingers Falls, New York, Cheng uses a wheelchair, has vision problems and heart disease. She takes vitamins, but does not take medicine.
"Parents only want what's best for their children. Otherwise, they would not bring them to a doctor in the first place," said Cheng, who advocates for parent rights. "The bottom line is: Who loves the children the most? Is it the parent who gave birth to them and raised them, or the doctors who know the child by what they see on medical charts?"
In reference to Hauser's case, Cheng said the Minnesota teenager had articulated his earlier wishes to not get chemotherapy. "It doesn't mean he doesn't want to live. He simply wants to seek alternative treatment. It is his body, it's his life, it's up to his parents and him to decide -- not strangers, not people who never knew he existed before."
Beth Young
As an infant, Beth Young couldn't crawl well. Throughout her life, Young sort of waddled instead of walking. Her Christian Scientist parents didn't visit the doctor's office because of religious beliefs.
When teased by schoolmates, Young prayed. "I really thought I had this problem because I couldn't know the Truth well enough. If I'd pray in the right way, maybe it would get better."
Health Library
When her mother saw her distraught, she said, "Do you know how doctors would deal with this? They'll cut you open and glue a metal bar to your spine. That's how they'll make your spine straight. Is that something you want?"
When Young went to an on-campus medical center in college, she learned her hips were dislocated and her thigh bones didn't fit into her hip sockets. It was too late for doctors to fix her hip dysplasia, a condition that is treated during the first year of life.
"When I found this diagnosis, I was angry. I felt cheated out of normal life," she said.
She attributed her parents' inaction to ignorance and never discussed the issue with her father (her mother had died). "I don't know if it makes anything better," Young said. "There's nothing he could say to change the facts, because I already love him."
Young, now 43, opposes religious exemption laws that allowed her parents to excuse their children from certain education requirements and vaccination. While the family's dogs received shots because that was legally required, Young and her siblings did not get vaccinated, because of religious exemption laws.
"I don't think these exemptions should exist," she said. "All parents should have the same responsibilities towards their kids. The situation we have right now is where religious parents get this free pass, where they get to deny their kids some kinds of treatments that other parents don't have the choice of doing. I don't think anyone should get a free pass to medically neglect their child."
E-mail to a friend

All About Cancer • Parenting • Medical Ethics