By Elizabeth Landau
CNN





(CNN) -- Giyen Kim recently posted a picture of scrumptious-looking jalapeno corn muffins, along with the recipe, on her blog. But after baking them, Kim didn't even take a bite.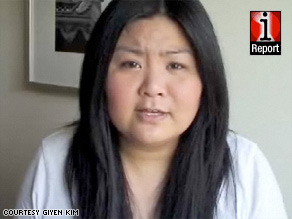 The past six weeks have been "a roller coaster" for Giyen Kim of Seattle, Washington.
The people who did eat the muffins at the potluck dinner told Kim they loved them, but she restrained herself because she's trying to lose weight.
"I tried a little bit of the batter, but I've been trying to stay away from wheat," she said.
Kim, 35, is one of several iReporters who have been sending in updates on the changes they want to make in 2009. Kim's goals were to lose weight and jump-start her career as a writer. Share your story with iReport.com
Right now, she says in her latest video update, she's trying to find her "center," and adjust from there.
"I've found that it's extremely difficult to lose weight the slow way, which is gradually and without making a lot of extreme dietary changes," she said in the video. "So, now I'm trying to change these long-term habits and eat more healthfully for the rest of my life. And, wow, I'm having a tough time."
At the beginning of the year, Kim, of Seattle, Washington, weighed in at about 190, and wanted to return to her pre-pregnancy weight of 120. She succeeded in losing 10 pounds in February, and initially felt more motivated to keep up with her weight loss.
But in March, Kim's aunt, who was the mother figure of the family, died of pneumonia, just a few months after Kim's uncle died. The loss of two close relatives threw Kim off track, and in April she felt like an "emotional wreck."
For Kim, the past six weeks have been "a roller coaster."
Since then, she has taken time to reassess her goals. In furthering her writing career, she tried to figure out whether she wanted to keep writing a novel, doing freelance work or blogging, and she has settled on the book and the blog.
Kim is writing a memoir describing her life growing up as an Asian-American and struggling with her weight. Right now, she's got some short pieces of it.
She is also taking Korean classes to get in touch with her roots. Kim hopes to go to Korea one day to meet some of her father's relatives. She would also like to find the Korean siblings of her mother, who died when she was young.
Learning the language has been somewhat slow because the class feels rudimentary, but she plans on keeping up with it.
At the beginning of May, she had been close to losing 15 pounds, but after Mother's Day and a string of restaurant meals, she had gained back 3 pounds. The last time she weighed herself, she was at 178.5 -- an 11.5-pound loss.
"It's just a tough battle to figure out what's right for me, what calorie intake is right to me, what exercise regime," she said.
Kim's companion in her weight loss journey is her best friend Renee, who recently had a baby, she said. Both women love food and have become more focused on motivating each other, Kim said.
Health Library
"Now, we're more focused on saying, 'Let's not go out to eat. Let's go for a walk instead,' " she said.
Although the weight loss journey has been rough, Kim says she's still staying positive. And healthy diet and exercise, along with meditation, have been the most effective treatment for her depression, which she has struggled with throughout her life, she wrote on her blog, baconismyenemy.com.
"It's been a long dark road to get to this point," she wrote.
E-mail to a friend

All About Weight Loss