NEW YORK (CNN) -- An assistant principal who died after being hospitalized with the H1N1 virus did have an underlying condition, the New York City's health commissioner said Monday.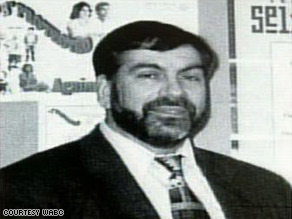 Mitchell Wiener, 55, who died Sunday, was listed in critical condition when he was admitted to the hospital.
But Dr. Thomas Frieden would not discuss the nature of the condition.
Mitchell Wiener, assistant principal of Intermediate School 238 in Queens, died Sunday evening of complications of the H1N1 virus, commonly known as swine flu, hospital and state officials said.
A Flushing Hospital spokesman earlier had declined to say whether Wiener had any pre-existing medical conditions.
If confirmed by the Centers for Disease Control and Prevention, the death would be the sixth linked to swine flu in the United States. The CDC has confirmed three in Texas, one in Arizona and one in Washington state.
Wiener's school is among eight in New York City temporarily closed at the recommendation of the city's Health Department.

Learn more about the 2009 H1N1 influenza virus »
Another school -- St. David's, an all-boys private school on the Upper East Side of Manhattan -- is closed for at least a day. Headmaster David O'Halloran said the school opted on its own to close after 10 to 12 percent of the school's 400 students reported experiencing flu-like symptoms.
The symptoms were not severe, and most of the boys were improving, he said.
Don't Miss
Frieden said Sunday that "with the virus spreading widely," closing affected schools "will make little difference in transmission throughout New York City, but we hope will help slow transmission within the individual school communities."

Listen as NYC officials announce Mitchell Wiener's death »
The flu strain, which originated in Mexico, killed dozens of people there, causing U.S. officials to worry that it could take a similar toll after spreading across the border. So far, it has acted similar to typical seasonal influenza, which usually can be treated successfully but can be deadly among the very old, very young and people with pre-existing health problems.

At a news conference Monday in which he discussed Wiener's death, Mayor Michael Bloomberg also announced the appointment of Dr. Thomas A. Farley to replace Frieden as the city's health commissioner. Frieden was recently tapped by the Obama administration to head the Atlanta, Georgia-based CDC.
Farley was most recently the head of the Department of Community Health Sciences and the Prevention Research Center at Tulane University's School of Public Health and Tropical Medicine in Louisiana. He will step into his new post in early June.
E-mail to a friend

CNN Radio's Patty Lane and CNN NY's Kristen Hamill contributed to this report.
All About Swine Flu • New York City • Centers for Disease Control and Prevention