(CNN) -- The World Health Organization said it will convene a meeting of experts next week to discuss the possibility of manufacturing a vaccine for swine flu as the number of confirmed cases of the virus nears 1,900.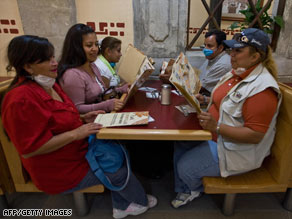 Diners returned to restaurants Wednesday in Mexico City after a shutdown over the swine flu outbreak.
The organization will hold a May 14 teleconference to discuss whether to recommend that drug manufacturers undertake large-scale production of a vaccine when one is developed, Marie-Paule Kieny, director of the WHO's initiative for vaccine research, said Wednesday.
The group also will offer guidance on whether the organization should advise drug manufacturers to stop making a vaccine for the seasonal flu to allow greater production of the vaccine, she said.
The meeting will include drug manufacturers, country regulators and flu experts and the WHO's advisory committee on the virus, also known as 2009 H1N1, Kieny said.
WHO Director-General Margaret Chan and U.N. Secretary-General Ban Ki-moon will meet May 19 with representatives of drug manufacturing companies to discuss how a vaccine would be distributed to developing countries, Kieny said.
Efforts to make a "seed vaccine" -- the first step in vaccine production -- for the H1N1 virus are under way, and she said one is expected to be available this month. However, she added that it would be at least six months before the first vaccine would be made available to the public.
On the economic front, all businesses in Mexico City can reopen Thursday, according to Mexico City Press Office spokesman Salvador Macías.
Citing improvement in the battle against the virus, officials had reopened government offices and restaurants Wednesday.
Officials had ordered a wide-ranging shutdown of Mexico City last week, shuttering about 35,000 public buildings in the bustling metropolis of about 20 million people.
The number of confirmed cases of swine flu has reached 1,893 across 23 countries, the WHO said on its Web site.
Mexico has 942 confirmed cases, including 29 deaths, the health agency said, and the United States has 642, with two deaths.
Both deaths in the United States were in Texas, the Centers for Disease Control and Prevention said. One was a pregnant teacher with pre-existing health problems, and the other was a toddler whose family was visiting from Mexico, the CDC said.
Judy Trunnell was eight months pregnant when was placed on life support in April. She gave birth to a healthy girl via Caesarean section and died this week.
She was from Cameron County, on the United States- Mexico border.
"We are seeing continued spread around the country. We are seeing increases in number of cases," said Dr. Richard Besser, acting director of the CDC.
He attributed some of the rise in confirmed cases to a backlog in cases awaiting confirmation.
The CDC said Wednesday that 41 states have confirmed cases of the virus. Illinois has the most confirmed cases, with 122, followed by New York with 97, the CDC said. California has 67, Texas has 61, and Massachusetts has 45, it said.

A full list of states with confirmed cases is the CDC Web site, www.cdc.gov.
Worldwide, after Mexico and the United States, Canada has the third-highest number of confirmed cases, with 165. Spain has 73. A full list of countries with confirmed cases is on the WHO Web site, www.who.org.

E-mail to a friend

All About Swine Flu • Mexico • World Health Organization