HONG KONG, China (CNN) -- Hundreds of guests and staff were under quarantine at a hotel in China on Saturday after a guest there contracted the H1N1 virus.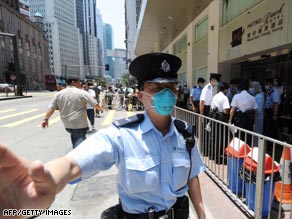 A policeman guards a Hong Kong hotel where 300 people are under quarantine.
About 200 hotel guests and 100 staff members were ordered to stay in the Metro Park Hotel in Hong Kong for seven days to stop the spread of the virus commonly known as swine flu, a government spokesman said.
The quarantine was ordered after a 25-year-old Mexican man stayed in the hotel and became sick. The man flew from Mexico to Shanghai on April 30 and then went to Hong Kong. He was taken to a hospital and tests confirmed that he had the virus, said York Chow, the secretary for food and health.
Chow said officials would isolate the hotel and that "relevant people" would be quarantined for seven days and treated with an anti-viral medication, commonly known as Tamiflu.
This was the first confirmed case of the virus in Hong Kong, local medical officials said.

Learn about the virus »
Don't Miss

The World Health Organization has also confirmed the case in Hong Kong. It is among the agency's 615 confirmed cases worldwide. None of the cases have been confirmed in mainland China.

Watch CNN speak to a quarantined hotel guest »
South Korean officials on Saturday confirmed their first case -- a 51-year-old nun who recently traveled to Mexico for volunteer work. Several other countries were investigating hundreds of other probable cases of the virus.
E-mail to a friend