MEXICO CITY, Mexico (CNN) -- The family of a toddler who became the first confirmed U.S. death from swine flu was back in Mexico Thursday, awaiting the arrival of his cremated body.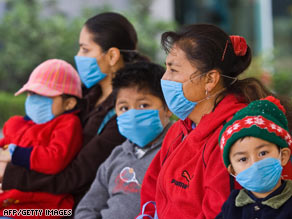 Patients wait at a hospital Wednesday in Mexico City. The swine flu outbreak began in Mexico.
Federal health officials warned the 22-month-old boy's death would not be the last in the United States as cases of the H1N1 virus, mounted at home and abroad.
The Texas funeral home director who carried out the boy's cremation said the services "left an impression" on him.
"They were a very, very nice family," said the director, Gregory Compean, who has been in business for 25 years. "The mother was very distraught."
The boy, whose name CNN is withholding, arrived in the border town of Brownsville on April 4 with his architect father, his mother and five siblings, Compean said.
The boy fell ill with flu symptoms four days later and was airlifted to a Houston children's hospital, where he died Monday night.
He had "several underlying health problems," and was likely infected in Mexico, state health officials said, without elaborating.
Mexican President Felipe Calderon took to television screens late Wednesday night, telling an anxious nation the country has enough medicine to cure the sick.
"In times of difficulty, we've always come together," he said. "Together, we will overcome this disease."
However, Calderon's words did little to calm jittery nerves.
"With stories and statistics changing by the hour, it seems we just don't know what to believe," said Melvin Francisquini, who is working as a volunteer in Mexico City after getting laid off from his job in the United States.
Don't Miss
In a city of 20 million, it has become impossible to find protective surgical masks, which the government had given to one out of every five residents.
"If everyone taking mass transit were wearing blue masks, I would feel safer," Francisquini said. "But they are not. This is why I continue to change the times I get into and leave work. Otherwise, as long as I'm not taking mass transit, I do feel safe."
On Wednesday, medics in Mexico City tended to patients in tents set up outside hospitals -- while clad head-to-toe in bio-hazard suits, goggles and two pairs of glasses.
The government has ordered a shutdown of about 35,000 public venues, mandated restaurants to serve take-out only and closed all nonessential government offices and private businesses.
The shutdown, beginning Friday and lasting until Tuesday, encompasses the long Cinco de Mayo holiday weekend, and may be extended, officials said.
"We're all very alarmed for ourselves and our families," said Cadina Navarro who lives in eastern Mexico City. "We're going through difficult times."
Swine flu is a contagious respiratory disease that affects pigs and can jump to humans. Symptoms include fever, runny nose, sore throat, nausea, vomiting and diarrhea.

Learn more about swine flu and how to treat it »
But the latest virus is a hybrid of swine, avian and human strains, and no vaccine has been developed for it. In response, countries are scrambling to prevent its spread.
The World Health Organization raised its pandemic to its second-highest level, warning of widespread human infection from the outbreak that originated in Mexico and has been jumping from person-to-person with relative ease.
It urged countries to ramp up efforts to produce a vaccine.
"It really is all of humanity that is under threat during a pandemic," said Dr. Margaret Chan, the WHO's director-general. "We do not have all the answers right now, but we will get them."
By early Thursday, the WHO had confirmed 154 cases worldwide with 10 additional cases reported in Spain, Nine of the cases of the H1N1 virus in Spain were found in people who had returned from Mexico.
While all the fatalities, except that of the boy, have been in Mexico -- the epicenter of the outbreak -- the majority of the confirmed infected cases have been in the United States: 91 across 10 states, according to the Centers for Disease Control and Prevention (CDC).
Several countries and U.S. states reported additional cases Wednesday that had not been included in the WHO and CDC tallies by early Thursday morning.
Nowhere is the crisis more severe than in Mexico City, where thousands stream into hospitals daily complaining of sore throats and aches.
Before it spread to four continents, the first cases of the virus were detected in Mexico, including the earliest documented case of a 5-year-old boy in a small mountain village in the state of Veracruz.
In the United States, President Barack Obama called on schools with confirmed or possible swine flu cases to consider closing temporarily. At least 74 elementary, junior high and high schools have done so, the Department of Education said Wednesday.

Watch how U.S. is gearing up for the worst »
Ecuador joined Cuba and Argentina in banning travel to or from Mexico. Egypt is reportedly considering culling all pigs although there have been no reported cases of swine flu in that country.
Some, such as China and Russia, have banned pork imports from the United States and Mexico, though the WHO says the disease is not transmitted through eating or preparing pig meat.
For now, the WHO's breakdown of confirmed cases is: 91, including one death, in the United States; 26, with seven deaths, in Mexico; 13 in Canada; five in the United Kingdom; four in Spain; three each in Germany and New Zealand; two in Israel and one in Austria.
Elsewhere, Peru reported its first case late Wednesday but it was not among the WHO's official tally.

Amidst the anxiety, health officials tried to tamp down concerns.
"When you think pandemic, people tend to reflect on the pandemics from years past," said Dr. Sanjay Gupta, CNN's chief medical correspondent. "Lots have changed. We are better taking care of people in hospitals, we have anti-viral medications. It doesn't mean everyone's going to die."
E-mail to a friend

CNN's Karl Penhaul, Jake Perez, Saeed Ahmed, Umaro Djau and Nicole Saidi contributed to this report.