By Denise Mann





When Lana Phillip, now 45, decided to breast-feed her baby, she never imagined she would continue for three whole years.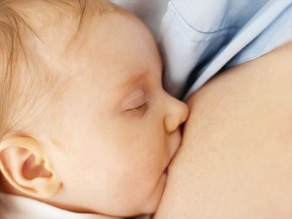 Breast-feeding produces a surge in oxytocin, the so-called love hormone, which may help protect the heart.
"I was living in Jamaica at the time where we say 'breast is best,' but I continued for so long mainly because my daughter wouldn't take anything else," she recalls. Sure, she knew that breast-fed babies tended to be healthier, but she didn't know that she also might be doing her own heart a favor -- an added bonus, as Phillip has a strong family history of heart disease and diabetes.
Women who breast-feed for longer than one year seem to be 10 to 15 percent less likely to develop high blood pressure, high cholesterol, diabetes, and cardiovascular disease after menopause than women who don't breast-feed, according to a study in the May issue of Obstetrics and Gynecology.
"At my last physical, I had no signs of any heart problems," says Phillip, who has been living in Brooklyn, New York, since 2000.
The U.S. surgeon general currently recommends that babies be fed exclusively with breast milk for the first six months of life, but "the longer women nurse their babies, the better for both of their health," says lead study author Eleanor Bimla Schwarz, M.D., an assistant professor of medicine, epidemiology, obstetrics, gynecology, and reproductive sciences at the University of Pittsburgh Center for Research on Health Care in Pennsylvania. Health.com: Diet tips for nursing mothers
In the study, the researchers looked at 139,681 women with an average age of 63 who had at least one child. Those who had a lifetime history of more than 12 months of breast-feeding had a lower risk of high blood pressure, high cholesterol, diabetes, and heart disease than women who also had at least one child, but did not breast-feed. What's more, the longer they breast-fed, the greater the apparent benefit to their hearts -- even after the researchers adjusted for factors that could affect heart disease risk, such as obesity.
Among women who breast-feed for more than one year, the researchers estimate that 38.6 percent will develop high blood pressure, 12.3 percent high cholesterol and 9.1 percent cardiovascular disease. In comparison, 42.1 percent of women who don't breast-feed may develop high blood pressure, 14.8 percent high cholesterol, and 9.9 percent cardiovascular disease. Health.com: Quiz: What's your cholesterol IQ?
According to Schwarz, these new findings should help tip the scale for women who are considering breast-feeding as well as encourage those who already are breast-feeding to do so for longer periods of time. "Heart disease is the leading killer of U.S. women," she says. "To prevent heart disease, I recommend that all my patients exercise regularly, watch their diet, avoid cigarettes, and breast-feed their babies," she says.
"All of these health behaviors are hard for some people, so my message is always 'do the best you can; the more you can do, the better for you'" she adds. "And when we're talking about breast-feeding, of course women get double credit, because breast-feeding is good for mom and good for the baby."
Donnica Moore, M.D., president of the Sapphire Women's Health Group in Far Hills, New Jersey and an author of "Women's Health for Life," advocates breast-feeding for infants, but points out that one year is a long time.
"We know that breast-feeding has numerous benefits for the baby, and this study is one more piece of information that suggests it also has benefits for the mother," she says. Health.com: Breast cancer during pregnancy: What you need to know
However, the study does have its weaknesses, she points out. For starters, the women were about 63 years old, which means they breast-fed a long time ago. A women's memory may not be all that accurate 30-plus years later, says Moore. In addition, the study was not specifically designed to look at breast-feeding and heart disease risk; these results were part of a secondary analysis from another study.
That said, "it's interesting that women who breast-fed more than 12 months showed risk reduction for heart disease, but that may say more about the health choices made by women who are going to breast-feed for that long," says Moore. These women may simply lead healthier lives, she adds. Those who choose to breast-feed tend to be better educated and have a higher socioeconomic status than women who do not -- factors that can also affect the risk of heart disease. (The researchers did take these factors into account.)
However, hormones may also be at play. Breast-feeding produces a surge in oxytocin, the so-called love hormone, which may help protect the heart. Health.com: 6 Rules for a healthy postpartum slim-down
Some women and infants do have trouble with breast-feeding. "Breast-feeding is like riding a bike: It can be tricky at first, and almost everyone needs a little bit of help getting started, but it's really important to learn how to do it," Schwarz says. "Don't hesitate to ask for help, and don't doubt your body's abilities to continue to provide for your baby the way it did throughout pregnancy."
Calling the findings "dramatic and persuasive," Edward R. Newton, M.D., a professor and chair of obstetrics and gynecology at East Carolina University in Greenville, North Carolina, stresses that "it is imperative that health care providers and our society support and educate women concerning the maternal benefits of prolonged breast-feeding as well as the documented benefits of breast-feeding for the children." Newton wrote an editorial that accompanied the new study.
E-mail to a friend

Try a FREE TRIAL issue of Health - CLICK HERE!
Copyright Health Magazine 2009
All About High Blood Pressure • Diabetes