(CNN) -- Variations within women's genes could predict risk for ovarian cancer, a new study has found.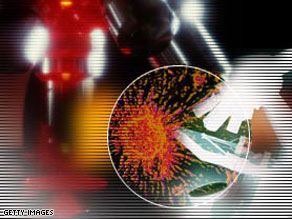 The symptoms of ovarian cancer are often vague, which makes it difficult to diagnose.
Researchers at the University of Texas M.D. Anderson Cancer Center report that women who had eight or more of these unfavorable variations, or genotypes, were 4.5 times more likely to develop ovarian cancer, and women with six to eight of the genotypes were at twice the risk.
The findings are being reported at the 100th annual meeting of the American Association for Cancer Research.
The genetic variations increase a woman's risk for ovarian cancer, said senior author Dr. Xifeng Wu, a professor in M.D. Anderson's Department of Epidemiology.
Wu and researchers examined genetic information from 417 cancer patients and 417 healthy controls. They found 12 genetic variations that were significantly associated with ovarian cancer risk.
This information could be used to develop a test to predict susceptibility to ovarian cancer.

Watch Elizabeth Cohen explain the findings »
Wu hopes that in the next five to 10 years, the genetic testing will be developed and made available, but she cautioned, "It won't be definitive. It will be a percentage risk, like one in 20 or one in 40."
Health Library
Doctors will also have to factor in risk factors such as family history and history of hormone replacement therapy after the age of 55, along with the gene variant, Wu said. Women who have never given birth are also more likely to get ovarian cancer.
"It's possible to have the variant but no family history," Wu said.
Ellen Matloff, director of the Yale Cancer Center Genetic Counseling Program, said the research was "very exciting," particularly because ovarian cancer is so hard to detect.
The symptoms of ovarian cancer are often vague, which makes it difficult to diagnose. The tumors are often caught late, and every year, about 22,000 women in the United States learn that they have ovarian cancer.

In 2008, 15,500 women died of ovarian cancer, compared with nearly 41,000 of breast cancer, according to the American Cancer Society.
Matloff said that if this testing becomes available to the public, women will need counseling to decide whether to be screened and counseling afterwards to decide what actions to take after getting the results.
E-mail to a friend

All About Ovarian Cancer • M.D. Anderson Cancer Center