By Geoff Williams





A couple of months into our relationship, my future wife mentioned that her doctor once predicted a slight possibility that she might not be able to have children.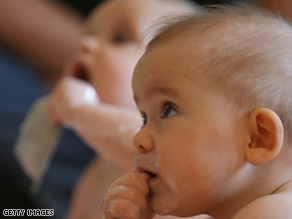 For some couples, having children isn't so easy. Some men need testosterone supplements to boost fertility.
The thought chilled me, but she didn't seem too worried, so eventually I stopped worrying, too. Besides, we both wanted kids; I knew that one way or another we would become parents. But in the event her biological makeup became an issue, I resolved not to cast blame and to be supportive. That decision made me feel good. It's nice to know you can be a rock for your loved one to lean on.
What I didn't expect to learn -- and what no guy wants to hear -- is that, Houston, there's a problem, but it's not with your wife.
I always knew that some couples have trouble conceiving, but until we encountered difficulty ourselves, I hadn't considered that for some moms and dads, the first true test of parenting has nothing to do with morning sickness or the delivery or changing that first diaper.
Sometimes the first test involves a lot of face time with a doctor, a surrogate mother, an adoption center, or another avenue you once upon a time never imagined you'd have to travel. If you're currently on that road, best of luck to you. If you've already made the difficult journey and are now expecting a child or already have one, congratulations. And while I'm not pretending that our story is anywhere near as challenging as the experiences of many parents, my wife and I do have some sense of where you're coming from.
We discovered my dilemma before we were married. When we took our relationship into the bedroom -- how can I put this delicately? -- my body language was curiously "uninvolved" in the proceedings. It wasn't that I couldn't perform, but instead of being fun, intimacy took a lot of effort. Susan brought up the idea that I might have a medical problem, but I thought she was jumping to conclusions. After all -- and I also want to put this very delicately -- she was sex-crazed. Parenting.com: Fun old wives' tales that correctly predict baby's gender -- 50 percent of the time
As our relationship matured, though, I began to see what she meant. Susan had her ideas of a romantic evening, and I had mine, like the time I invited her over for a candlelit dinner followed by a rousing game of Parcheesi and a couple of reruns of M*A*S*H before calling it a night. Even I realized that was a cry for help. Parenting.com: 'I was told I'd never have kids'
When we got engaged, I agreed to see my doctor, who at first didn't seem too concerned. He gave me two Viagra pills and said to call him in the morning. But soon after, he sent me to a urologist, who determined the problem: "You have low testosterone," I was told. In an out-of-body experience, I then watched my male ego walk across the room, open the second-story window, and jump out. I was baffled. I have a deep voice, my five o'clock shadow shows up around 11 a.m., and some of my favorite movies are testosterone-laden action flicks, like The Great Escape with Steve McQueen and all the James Bond installments.
On the other hand, I played the triangle in marching band.
I can laugh about it now, sort of, but I left the urologist's office depressed. I was told I had something called hypogonadism, and that even if my testosterone level was raised, I still might not be able to father a child. Parenting.com: What you always wanted to know about labor but were too mortified to ask
Coming to terms
We might never have kids because of me? This wasn't the way it was supposed to be. If we had a problem conceiving, it was going to be due to Susan, and I was going to be the sympathetic and blameless one in the relationship.
Health Library
Driving home, I called Susan from my cell phone, intending to casually give her the basic facts about my visit. But when I heard the doctor's voice in my head -- that if we had a baby, I might not be biologically involved -- I suddenly had to pull off the road. I was breaking down, and I'm not referring to the car. Sobbing, I struggled to keep my composure but failed miserably. Susan, as usual, was very supportive -- a rock I could lean on -- which in a way made me feel worse, especially when I realized I had pulled over in front of a Home Depot, the nerve center for all things related to manhood. I felt more emasculated than ever.
In time, though, I did what all future parents faced with a barrier do: I tried to get over it and adjust to my new reality. I began receiving regular testosterone shots. I was told that the morning was the best time for the injections, so I went to the hospital at 6 a.m. before heading to the city newspaper I wrote for. I hate needles; I'd look away and hope that if I was ever able to help my wife have a baby, the child would someday appreciate what I was doing. After several months of that, I was prescribed a testosterone gel and instructed to slather it on my upper arms for the rest of my life if I wanted to maintain a healthy sex drive. It's not difficult, though I sometimes feel like a car that needs to have its oil constantly regulated. Parenting.com: The best ways to get pregnant
But who cares? It worked. Once Susan and I agreed to start trying to have a baby, I expected we might have some luck after a year. Instead, to my utter surprise, Susan was pregnant in about a month with our daughter Isabelle. Two years later, after another round of early-morning injections, it worked again, and we gave birth to our second little girl, Lorelei.
And sure -- in case you're wondering -- it's a bit embarrassing to admit that I take a testosterone supplement. I can imagine old buddies of mine hearing about it and snickering; or I may have ex-girlfriends reading this and thinking who knows what. My mother, who occasionally cringes when I delve into the personal details of my life in this column, probably fainted several paragraphs ago. Parenting.com: 'I didn't even know I was pregnant!'
Happily, though, I rarely question my manhood these days. It's a powerful feeling to know that for the rest of my days, I'll do everything I can to protect my girls. From the moment I held them in the delivery room and a million times ever since, I've never felt like more of a man.
(P.S. Several months ago, I went back to the doctor to make sure everything was checking out because we're considering expanding our family. That, and my wife and I are both getting tired of playing Parcheesi.)
Geoff Williams is a Babytalk contributing editor in Loveland, Ohio.
E-mail to a friend

Try a FREE TRIAL issue of Parenting Magazine - CLICK HERE!
Copyright 2009 The Parenting Group. All rights reserved. Reproduction in whole or in part without permission is prohibited.
All About Pregnancy and Childbirth