CHICAGO, Illinois (CNN) -- Public health officials in Chicago said Monday that they have tested at least 10 family members of the medical intern linked to a tuberculosis scare in the city.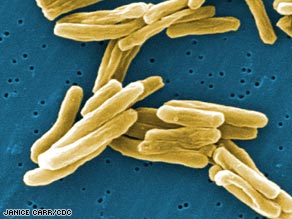 Chicago's department of public health said it tallied just 214 TB cases last year, an all-time low.
None of the results has come back positive for the disease, they said.
Officials continue testing hundreds of patients and staff members at three area hospitals.
The infected first-year pediatric resident, who is in her 20s, on Tuesday was found to have confirmed tuberculosis, said Tim Hadic, a spokesman for the Chicago Department of Public Health.
"Right now, the three hospitals are going back into their records and contacting anybody who may have had significant contact with her, from November to April 1," he said. "They're contacting literally hundreds of people, just alerting them to the situation."
He added, "it's a cause for concern but certainly not a cause for alarm."
The woman was hospitalized for several days but has been discharged and is recovering at home, he said. She has not been identified publicly.
Preliminary testing indicates that the woman does not have a drug-resistant form of the bacteria, though testing had not been completed, officials said.
The woman recently began showing symptoms and sought testing, which resulted in the diagnosis and the scramble to alert people who may have been exposed, Hadic said.
The institutions are Evanston Hospital, which is part of the Northshore University Health System and is in a suburb north of the city, and Northwestern Memorial Hospital and Children's Memorial Hospital, both of which are in the city.
At Evanston, the resident worked from February 11 to March 12 in the infant special care unit, spokeswoman Amy Ferguson said.
"We have started to contact the 80 patients that she had been treating through that month," she said, adding that the infants' immediate family members are also being offered testing.
Another 30 to 40 health workers are being contacted, she said.
At Northwestern Memorial's Prentice Women's Hospital, the woman was working from November 3 to November 21, the hospital said.
"We are in the process of contacting patients who may have been affected and believe that number to be 17," it said in a news release. "In addition, we are evaluating another 100 patients who may have received care from this health worker to determine their risk."
Health Library
The hospital's neonatal intensive care unit was not affected, it said.
At Children's Memorial, the resident worked between November 20 and April 3 with various populations, though newborns were not among them, spokeswoman Kathleen Keenan said. In all, 122 patients and 300 staff may be at risk, she said.
Keenan said the possibility that any patients would have been infected was "highly unlikely."
The city's department of public health said it tallied just 214 TB cases last year, an all-time low.
The Centers for Disease Control and Prevention is also involved in the investigation.
E-mail to a friend

All About Tuberculosis • Centers for Disease Control and Prevention