(CNN) -- North Carolina-based grocery chain Harris Teeter voluntarily recalled its pistachio nuts because of possible salmonella contamination from its supplier, California-based Setton Farms.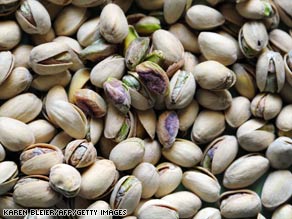 North Carolina-based grocery chain Harris Teeter voluntarily recalled its pistachio nuts.
The products involved in the recall include: Planters Light Salted Nutrition Mix, Planters Dry Roasted Pistachio, Planters Mixed Nuts and Raisins, Roasted Salted Pistachios, Ciao Bella Pistachio Gelato Single Serve, and Harris Teeter Natural Roasted and Salted Pistachios. The recall is limited to packages of various sizes.
Harris Teeter, which has 176 stores nationwide, operates in eight states and the District of Columbia, according to its Web site.
"Currently, Setton Farms is recalling pistachios produced at their facility after September 1, 2008," according to Harris Teeter's Web site.
Salmonella strains were found during routine testing by Kraft Foods, one of about three dozen companies that purchase pistachios from Setton Farms, the second-largest pistachio processor in the nation.
The Food and Drug Administration said subsequent inspection of the Setton Farms plant in Terra Bella, California, "indicates the presence of salmonella in critical areas of the facility and the potential for cross-contamination between raw and roasted products." See list of products being recalled
The nuts were largely distributed in 2,000-pound containers to food wholesalers who would then package them for resale or incorporate them as ingredients in other products, such as ice cream and trail mix.
Salmonella can cause serious and sometimes fatal infections in young children, frail or elderly people, and others with weakened immune systems.
The FDA is advising consumers not to eat any pistachio products, but not to throw them out, either, because additional recalls are likely and having products that could be turned in would allow for easier tracing of contamination.
E-mail to a friend

All About Food Safety • Food and Drug Administration