By Elizabeth Landau
CNN





(CNN) -- Thursday was Giyen Kim's first Korean class. Her plan is to go to Korea to meet some of her father's relatives, as well as find her the siblings of her mother, who died when she was young.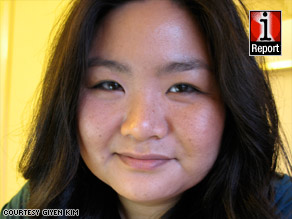 Giyen Kim recently lost her aunt. After several weeks of grieving, she is starting to get back on track.
Learning her parents' language was something she had merely thought about for years, but with the recent deaths of her uncle and aunt, she realizes that time may be running out for her to connect to other relatives.
Kim, 35, is one of several iReporters who have been sending in updates on the changes they want to make in 2009. Share your story with iReport.com
At the outset, one of Kim's major goals for this year was losing weight: She started at 190 pounds in January and wanted to get a lot closer to her pre-pregnancy weight of 120. She hit a 10-pound milestone in February and felt like the next 10 pounds would be even easier.
But last month, tragedy struck. Her elderly aunt, who served as the mother figure of the family, contracted pneumonia and deteriorated rapidly. Kim had lost her uncle in January.
When Kim went to see her dying aunt, whom she characterized as a strong woman, the older woman was more emotional than Kim had ever seen her.
Health Library
"At the end, the day before I left, she looked at me, and she told me she was really proud of me," Kim said. "She said, 'You're so beautiful' -- she's never said that in her life in our time together."
Around her 35th birthday, Kim learned of her aunt's death. She felt depressed and found refuge in sleep. Monday, she wrote on her blog, baconismyenemy.com, "It's hard to take care of myself at a time when sleeping feels like my only objective in life."
Recently she's found it helpful to take time to appreciate small positive events every day.
"It's been really comforting for me to reflect on small things rather than where I am with my weight loss process and my writing career," she told CNN. Watch her talk about the grieving process
With her weight still hovering around 180 pounds, Kim said, she doesn't feel as frustrated with hitting this plateau as she would have had she not gone through the loss of her aunt.
But this week she's going to the gym again, which has been a "huge relief" and has given her more energy.
"I would say, hopefully I'll be back on track next month," she said.
Kim continues to write about daily life on her blog. She also recently renewed her contract with Momversation, an online video show and forum for mothers.
Losing her aunt has reinforced her sentiments that she wants to enjoy life more.
"It makes you feel like life is so short that spending it doing things you don't want to be doing is just a waste of time," Kim said.
Exposure to parents and other relatives who speak Korean has given Kim some knowledge of the language -- she can generally understand the subject matter of the conversation -- but she can't read it and doesn't enunciate well.
"This gave me the push that I needed," she said.
E-mail to a friend

All About Weight Loss