By Elizabeth Cohen
CNN Senior Medical Correspondent





(CNN) -- A self-described health nut, Andrew Traver takes vitamins, runs, lifts weights, scorns red meat and got tested for prostate cancer at age 40.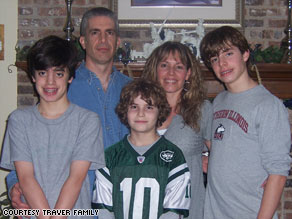 Andrew Traver, second from left, credits prostate cancer screening with saving his life. He got the disease at 44.
Traver didn't have any particular reason to be worried about prostate cancer, and getting tested at 40 is considerably younger than recommended, but he wanted to be sure.
"I'm very conscious about my health, and I felt like doing this test was a part of keeping myself healthy," Traver said.
Last year, at the age of 44, Traver found out he had prostate cancer and had his prostate gland removed.
"My surgeon told me that I wouldn't have lived until 50," Traver said. "Prostate cancer screening saved my life."
Traver, the head of the Chicago, Illinois, field division for the Bureau of Alcohol, Tobacco, Firearms and Explosives, now tells the 130 male agents under his command to get tested for prostate cancer.
"I tell them, men who don't get tested are whistling past the graveyard," he said.
But Dr. Christine Berg, co-author of a recent New England Journal of Medicine study on prostate cancer screening, questions whether testing is the right choice for all those 130 men.
Don't Miss
"Early detection helps, but there are also harms associated with it," said Berg, chief of the early detection research group at the division of cancer prevention at the National Cancer Institute.
In fact, some prostate cancer experts have asked their doctors not to test them for prostate cancer.

Check out what the doctors, and others with different views, had to say »
How could screening for cancer be bad? Because it might find a small, relatively harmless cancer that a man could live with for decades, and treatment for that cancer could cause problems, such as incontinence and impotence.

Watch more on the prostate cancer screening debate »
Screening involves a blood test for levels of prostate-specific antigen and a digital-rectal examination.
Once a cancer is found, it can be tough for doctors to distinguish between an aggressive tumor and one that won't ever cause a problem.
"We're moderately good at discerning one from the other, but we're not good enough," Berg said.
There's a chance of less than 1 percent that screening will pick up a cancer that's a true threat, Berg says, adding that it's 47 times more likely the screening will pick up a relatively harmless cancer that, if treated, could have troubling side effects.
Berg says every man needs to make the decision on his own with his doctor, keeping in mind that even experts disagree on what to do. The American Urological Association, the American Cancer Society, the U.S. Preventive Services Task Force and the National Comprehensive Cancer Network all have differing recommendations on whether men should be tested and at what age.

Berg says she thought for a long time before recommending screening to her husband, who has a family history of prostate cancer.
"Of course, I didn't want him to die of prostate cancer at age 80 like his father, but I don't want the poor guy to wear diapers for the next 20 years, either," she said.
E-mail to a friend

CNN's Jennifer Pifer Bixler and Sabriya Rice contributed to this report.
All About Prostate Cancer • National Cancer Institute