By Grace Wong
For CNN





LONDON, England (CNN) -- More people dying from tuberculosis are infected with HIV than has been previously identified, the World Health Organization says.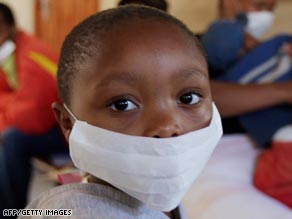 One in four tuberculosis deaths is HIV related, according to a new World Health Organization report.
One in four TB deaths worldwide is HIV related, the international health agency said in its 2009 Global TB Control Report released Tuesday. That's twice as many as had been recognized in previous reports.
But the WHO said it also revised earlier estimates of HIV-positive TB cases and deaths due to the recent availability of more representative country information, which means the number of TB deaths among HIV-positive people did not actually double from previous years.
In 2007, there were an estimated 1.37 million new cases of TB among people infected with HIV and 456,000 deaths, the WHO said.
The WHO's annual report on TB monitors the scale of the disease and tracks progress made at controlling it. It was released to coincide with World TB Day, which is observed on March 24 every year.
TB is contagious and spreads through the air when an infected person coughs, spits or sneezes. The disease is found everywhere in the world but is most prevalent in developing countries.
Vital Signs
Each month CNN's Dr. Sanjay Gupta brings viewers health stories from around the world.


While the total number of new TB cases was little changed in 2007 -- there were 9.27 million new cases versus 9.24 million reported in 2006 -- the rate of TB/HIV co-infection is worrying, experts said.
"We have made remarkable progress against both TB and HIV in the last few years. But, TB still kills more people with HIV than any other disease," Dr. Michel Kazatchkine, executive director of the Global Fund to Fight AIDS, Tuberculosis and Malaria, said in a statement accompanying the report.
The report found that TB patients, particularly those living in Africa, are increasingly getting tested for HIV. Some 37 percent of people treated for TB in the region were tested for HIV in 2007. That compares to just 4 percent in 2004.
Still, Africa lags behind when compared to other parts of the world. The WHO said several countries reported testing more than 75 percent of patients with TB for HIV.
Don't Miss
The WHO also reiterated the danger of a strain of TB that isn't treatable by the usual drugs, known as multidrug-resistant TB.
About half a million people had so-called multidrug-resistant TB in 2007. But the percentage of those receiving the recommended treatment, which can be costly and complicated, was below 1 percent.
E-mail to a friend

All About Tuberculosis • World Health Organization • Contagious and Infectious Diseases