By Stephanie Smith
CNN Medical Producer





NEW YORK (CNN) -- Austin Horse talks about his collision with a taxi cab with the sort of droll indifference you might expect from a 24-year-old.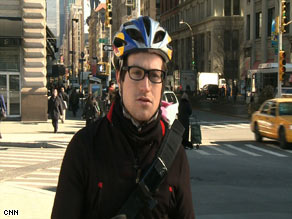 Bike messenger Austin Horse, 24, doesn't have health insurance. He says he's leery of the health care system.
"Every now and then, you know, there'll be accidents or mishaps where a car hits me," said Horse, a full-time bike messenger, smiling as he leans against his mottled, rusted bike frame. "You try to avoid those."
His apathy might be understandable if he had not already had a cab roll over his legs, had not already plowed into car doors while biking, and had not already had countless other mishaps during the past four years cycling around New York City streets.
"Once I was run over by a taxi and another time I had a livery cab knock me off my bike and I got stuck in a sewage grate," said Horse.
Despite his inherently dangerous job -- Horse has made a couple of trips to the emergency room in the past few years -- he is working without health insurance.
Horse is one of millions of what the insurance industry has dubbed "young invincibles," a group of 18-to 29-year-olds who reside in a precarious gray area when it comes to insurance coverage. Many work low-wage jobs, yet they just miss qualifying for government low-income health insurance programs. They can no longer get insurance under their parents' plans.
Road to Rescue: CNN Survival Guide
Unprecedented reporting on the money meltdown that's changing your life
This week on CNN

"Health insurance is not one of the things that younger adults are focused on," said Dr. Ken Thorpe, a professor of health policy at Emory University. "They come off their parents policies, and they're now facing a very high cost. They basically have to pay that high price themselves."
Instead of paying exorbitant prices, many young people choose to remain uninsured, risking injury while harboring the belief that youth alone can buffer them from illness.
A recent study conducted by the Commonwealth Fund, a center for health care policy, found that 13.7 million people ages 19 to 29 did not have health insurance in 2006. The total number of uninsured that year was 47 million, which means "young invincibles" composed almost one-third of all the uninsured in the U.S.
Despite their good health relative to aging populations, a recent report from the Centers for Disease Control and Prevention paints a grim picture about health care trends among young people.
Don't Miss
The study, released earlier this year, found that accidents accounted for 70 percent of deaths among those 18 to 29.
"It is a big mistake not to get insurance," said Dr. Alan Garber, director of the Center for Health Policy at Stanford University. "There may be a tendency on the part of young people to underestimate how likely they are to have an accident or some severe illness."

Watch how some young people go without insurance »
Horse argues that "young invincibles" aren't throwing caution to the wind, simply believing that they're unsusceptible to injury. He gives credence to the notion that young people feel invincible, but adds that many feel a general leeriness about the health care system.
"I've had many friends who have had insurance, and they've had something really serious happen to them," said Horse. "And they have had all sorts of issues where the insurance didn't do anything for them, and they're left with not just medical bills but this frustration."
Griffin McPartland was about Horse's age when he biked the streets as a messenger in San Francisco, California, without health insurance.
Fact Box
18 percent
Percentage of Americans under age 65 without health insurance
36 percent
Americans polled who are not confident they could pay bills after major medical emergency
$1,946
What the average worker will pay for health coverage at large companies this year
Sources: National Coalition on Health Care, CNN/Opinion Research, Hewitt Associates
"In the days when I was an independent contractor, I was only concerned with the fallout from an accident," said 34-year old McPartland. He scoured the market for jobs offering insurance, but they were hard to come by. His strategy, at least for a few years, was to stretch out his time in junior college and take more classes so that he could stay on his mother's insurance plan.
"Those were slim times," said McPartland. "As a goal, I always tried to get a job with insurance, but it just didn't work out that way."
Meanwhile, other uninsured acquaintances found ways to circumvent the problem of no insurance.
"You would hear stories about people giving fake names at the ER or blowing out before being discharged so they wouldn't be responsible for the bill," said McPartland. In New York, Horse says he sees the same thing.
But somebody pays, said Emory's Thorpe.
"In cases where somebody who doesn't have health insurance shows up in the emergency room, we all end up paying for it. Taxpayers pay for it. People with private insurance pay for it. Somebody's picking up the bill."
According to Thorpe, who is also the executive director of an organization called the Partnership to Fight Chronic Disease, about $50 billion a year is spent to cover medical bills incurred by the uninsured.
The Obama administration has laid out a broad framework plan to help uninsured people. Cornerstones of the administration plan include reducing costs and providing affordable health care that is accessible to anyone who needs it.
After years of living without insurance, McPartland says he "made a grown-up decision" and became a garbage man.
Health Library
"The benefits are out of control," said McPartland, who now raises a 21-month-old daughter with his wife. "This is worlds apart from anything I've had in the past. I don't have to worry about co-payments, prescription drugs, nothing out of pocket."
Right now, health insurance is not on Austin Horse's radar but, he says, he believes that one day universal coverage might be a reality for him.
"The government would pay for health care, and yet we would still have our private choice of doctors," said Horse. "It's the best of both worlds."

Until universal coverage becomes reality, Thorpe suggests that "young invincibles" purchase a high-deductible plan that at least covers catastrophic events, such as major accidents, as a temporary remedy to the soaring cost of health care.
"If we're ever going to get toward universal coverage," said Thorpe. "We've got to find ways to get younger adults to purchase health insurance."
E-mail to a friend