By Elizabeth Landau
CNN





(CNN) -- Barbara Rademacher said she had the "best day I can imagine" two weeks ago when two co-workers independently approached her to ask whether she had lost weight. They told her she looked good.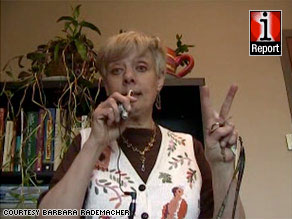 Barbara Rademacher says her day was made twice when two co-workers asked if she'd lost weight.
At that point, Rademacher, 57, had lost only two pounds since the beginning of the year, but she had been making more of an effort to exercise. Since then, she's lost four more pounds, putting her at a six-pound weight loss since January 1.
Rademacher, based in Rogers, Arkansas, is one of many CNN.com readers who have been posting updates on iReport.com about their goals for 2009. iReport.com: 'Have you lost weight?'
Since she improved on her exercising this year, much of her chronic pain has gone away. The discomfort she used to feel in her back and knee have subsided, she said.
"I have this theory that not working out caused my body to start falling apart," she said.
Her routine consists of riding on an exercise bike for 15 minutes, then 20 or 30 sit-ups in a row and leg exercises with weights. She also uses free weights and other machines to work on her arms. She usually works out three times a week, and walks her dogs three miles every other day.
Rademacher has also made more of an effort to eat vegetables. One of her signature meals consists of a baked potato with yogurt and salsa, which she then puts back in the oven to heat. Visit CNNHealth.com, your connection to better living
While Rademacher has not been directly affected by the economic downturn, she teaches many people at the local community college who have been laid off. She sees many construction workers who have lost their jobs, but say they're glad to change gears because they're getting older, she said.
"Working at a community college is always rewarding," she said. "We give people a second chance, or a third, or a fourth chance."
Her school is preparing for an influx of members of the military who are returning from service. Since there aren't a lot of jobs available, the expectation is that many military personnel will come to the community college to get new job skills.
Rademacher has become involved more with Twitter recently, particularly since she discovered a feature to locate other Twitter users in her town. So far she's found about 25 other people in Rogers who use the service.
Submitting videos to CNN's iReport is one of her favorite hobbies. She said she's getting better at editing videos, and has been asked to produce video projects for various departments at the community college, where she teaches math.
In general, she sees her life as "pretty full and pretty exciting." The blooming dogwood trees and flowers also put her in a good mood.
Her next goal is to lose five more pounds in the next month or two, and to keep working on getting in shape, which means "not have jiggle in places where I have jiggle," she said.
E-mail to a friend

All About Exercise and Fitness