By Madison Park
CNN





(CNN) -- Cancer patients who rely on religion to cope with their terminal illnesses are more likely to use intensive life-prolonging care, according to a study published this week in the Journal of the American Medical Association.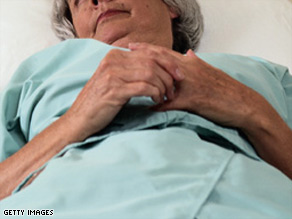 Cancer patients who coped through religion were more likely to receive life-prolonging treatments.
Aggressive treatments such as machine ventilation and resuscitation keep the patients alive, but they ultimately don't cure them.
"Religious copers may decide to undergo therapies with high risks and uncertain benefits because they trust that God could heal them through the proposed treatment," the study authors wrote.
Cancer patients who had high levels of religious coping were three times more likely to receive aggressive life-prolonging care.
"We're not saying every religious coper is likely to get aggressive care," said one of the authors, Holly Prigerson, director of the Center for Psychooncology and Palliative Care Research at the Dana-Farber Cancer Institute. "Most of them did not. Among those who were getting the most aggressive care, it was disproportionately a function of their being a religious coper."
How cancer patients cope
A new study finds that religiousness affected end of life treatments.

Percent receiving ventilation
High in religious coping: 11.3
Low in religious coping: 3.6

Percent receiving life-prolonging care
High in religious coping: 13.6
Low in religious coping: 4.2

Percent receiving resuscitation:
High in religious coping: 7.4
Low in religious coping: 1.8

Source: Journal of the American Medical Association

About 10 percent of those who had high levels of religious coping died in the intensive care unit, as opposed to 4.2 percent who had low levels of religious coping.

In this study, nearly 80 percent of the 345 patients with advanced stages of various cancers said religion helped them cope, and about 32 percent reported that their faith was "the most important thing that keeps you going."

More than half reported praying, meditating or taking part in religious studies. The study participants were primarily Christian and were followed until death.

The Coping with Cancer study, funded by the National Cancer Institute and the National Institute of Mental Health, examined the relationship between psychological and social factors and the end-of-life outcomes at seven medical facilities in Dallas, Texas; Boston, Massachusetts; West Haven, Connecticut; and Hookset, New Hampshire.

Through adversity and near death, religion can "offer patients a sense of meaning, comfort, control and personal growth while facing life-threatening illness," wrote the 11 study authors.

"Positive religious coping gives people hope, meaning and purpose," said Dr. Harold G. Koenig, co-director of the Center for Spirituality, Theology, and Health at Duke University Medical Center, who is not involved with the study.

"It helps them to cope with the dying process. It gives them hope that something can be done, as opposed to being depressed and thinking, 'I'm going to die.' For those who are hopeful, the suffering has meaning, and they say 'I'll hold on longer,' especially African Americans and Hispanics," he said.

In other research based on the Coping With Cancer study, researchers found that the cost of Medicare in the last six months of life varied by race: The average cost for whites was $20,166, compared with $26,704 for black people and $31,702 for Hispanics.
Don't Miss
At the end of their lives, "minorities often receive more expensive but not necessarily life-enhancing care," according to the study published in the March 9 issue of Archives of Internal Medicine.
Researchers found that one-third of the Medicare budget goes to the medical treatments given in the last year of life and that 80 percent of those costs were for ventilators and intensive care.
Blacks and Hispanics were more likely to use religious coping, according to the study. Even after the analysis was adjusted for factors such as age and race/ethnicity, religious coping was associated with receiving aggressive medical care.
Cancer patients who relied heavily on religious coping were less likely to understand a do-not-resuscitate order and felt that such an order was morally wrong. These patients were less likely to have advanced planning such as having a living will (29 percent, versus 68 percent who were less religious) or medical power of attorney, which is the ability to act on someone else's behalf (34 percent, versus 64 percent who relied less on religion).
Study authors wrote that doctors should be attentive to religion as they discuss prognosis and treatment with terminally ill patients.
"Physicians are hearing and are honoring patients' wishes for more intensive care, even if they might not believe it," Prigerson said. "What it highlights for clinicians is that they should have a better sense of how much religious beliefs are being factored into the decision-making process."
For many physicians, it's a complicated and often uncomfortable line between faith and science.
"When you have no communication about a factor that's influencing decisions, this is going to happen," Koenig said. "People hang on for dear life and don't feel their beliefs are respected when we don't talk about them."
Koenig, who is also a professor of psychiatry and behavioral sciences, recommended that doctors talk to patients about their "spiritual history" but said research showed that less than 10 percent do.
More than half of Americans believe faith trumps science. In a study published last year, 57 percent of randomly surveyed adults said divine intervention could save a deathly ill family member even if physicians said treatment would be futile.
"There's a paradox," said Prigerson. "Patients trust their doctors but they may not be trusting of information about their prognosis shared by their doctors. They may not think it's relevant and that when or how they die will be determined by God, not by medicine."
E-mail to a friend