By Madison Park
CNN





(CNN) -- A decade-long study following more than 75,000 men found that prostate cancer screenings led to more diagnoses but did not reduce the number of deaths from the illness.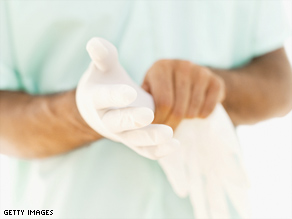 A multiyear study finds that annual prostate cancer screenings did not reduce the number of deaths.
The National Cancer Institute's findings, which are published online in the New England Journal of Medicine, challenge the popular idea that routine screenings reduce cancer-caused deaths.
The results so far from the Prostate, Lung, Colorectal, and Ovarian Cancer Screening Trial made some researchers uncomfortable as they cautioned that there was no definitive answer on the effectiveness of prostate screenings yet.
"This is not the final word," said Dr. Christine Berg, an author of the study and chief of National Cancer Institute's early detection research group. "However, we need longer follow-up to determine whether the impact of diagnoses of prostate cancer will translate into fewer deaths for prostate cancer."
Since the early 1990s, controversy about the effectiveness of prostate cancer screening has persisted in the medical community. Although some doctors recommend annual testing, others remain skeptical, citing lack of scientific evidence and the risk of common side effects of treatment, such as impotence and incontinence.
"There was little or no scientific evidence that it saved lives," wrote Dr. Otis Brawley, the chief medical officer at the American Cancer Society and a CNNhealth.com conditions expert, who questioned the use of the screening in the early '90s as it became popular.
"I can say firsthand that some American screening advocates were vicious in their attacks on those who dared question prostate cancer screening. Some lay and physician advocates had a religious-like fervor for screening," he wrote in an opinion piece for CNN.com. Read Dr. Brawley's entire opinion piece
Influential medical organizations such as the American Cancer Society and the National Cancer Institute do not recommend annual prostate-specific antigen testing (PSA), in which the doctor takes blood samples and measures the protein found in the prostate gland.
Don't Miss
The multiyear study began in the early 1990s and will track every participant for at least 13 years.
In the trial, half of the 76,693 men were assigned to 10 years of annual screenings. The remaining participants were assigned to get their usual health care without any recommendations for or against annual prostate exams.
After following the participants for seven to 10 years, researchers found that the rate of death from prostate cancer "was very low and did not differ significantly between the two study groups," according to the study.
"Everyone would've been more comfortable with a more clear and definitive direction, but we didn't get that," said Dr. Edward Gelmann, an author of the study and a deputy director at the Herbert Irving Comprehensive Cancer Center at Columbia University. "We don't have that at this point."
The study, he said, "will eventually give us an answer. We may not like the answer, but the answer will be there."
An independent review committee overseeing the trials saw a continuing lack of evidence that the screenings reduced prostate cancer deaths and recommended publishing the current findings.
"We have to be honest with ourselves as medical professionals, with our patients, as their advocates, that as new information comes out, we have to work actively to disseminate that information," said Dr. Gerald Andriole, an author of the paper and a lead investigator.
Even if that means confusion amongst patients and doctors.
In the same edition of the New England Journal of Medicine, a European study examining screening tests reported that there was a 20 percent reduction in the rate of death from prostate cancer. This study followed 182,000 patients for 15 years in seven countries. But the European study employed different methodologies and frequency of screenings from those in the U.S. study.
Both studies show marginal to low benefits from prostate cancer screenings and suggest that many men are being overdiagnosed and overtreated, researchers said. In the United States, prostate cancer affects one in six men.
The problem occurs because samples from the common PSA test do not give enough information to determine whether a prostate cancer is "a killer cancer or a toothless lion: the type of cancer men die with, not die of," Andriole said.
"And we've sort of made a mistake, tending to treat all these patients all aggressively, although we know quite a number of [the cancers] are apt to be toothless lions," he said.
A suspicious PSA result could lead to a biopsy and then a possible diagnosis of prostate cancer, which could mean aggressive treatments that produce side effects such as urinary incontinence and sexual dysfunction.
"For many of these men, they suffer those downstream troubles for a cancer that was never, ever destined to cause them harm in their lifetime," Mary McNaughton-Collins, an internist and health services researcher at Mass General Hospital and Harvard Medical School, told the New England Journal of Medicine.
Research is under way to find the genetic markers of lethal cancers so doctors can better determine who needs aggressive prostate cancer treatment, but these tests are years away.
The U.S. Preventive Services Task Force recently concluded that there wasn't enough evidence supporting prostate cancer screenings and discouraged the exams for men 75 and older.
A PSA test is not necessary for a patient who is elderly, has other medical conditions and has a limited life expectancy of seven to 10 years, said Andriole, chief of the division of urologic surgery at Washington University School of Medicine in St. Louis, Missouri.
"That might be trigger of potential harms related to having that PSA test," he said.
But it's a more mixed message for younger and healthier men.
There might be mortality benefits for them with prostate screenings, but the U.S. study has only 10 years of data, so it's difficult to tell how younger men in the trial have been affected, Andriole said.
It's a discussion left to each doctor and his or her patient.
"I don't think we should deny men when they want screening," said Dr. Eric Klein, head of Urologic Oncology in the Urological Institute at the Cleveland Clinic, who is not affiliated with the study. "Most men, when diagnosed with prostate cancer, want to be treated, even though a lot of it doesn't need to be treated. We need, as a profession, to be more judicious who we recommend the therapy for."
E-mail to a friend

All About Prostate Cancer • Cancer • Men's Health