By Debra Alban
CNN





ATLANTA, Georgia (CNN) -- The Bartendaz of New York want to serve as many young people as possible -- and that's a good thing.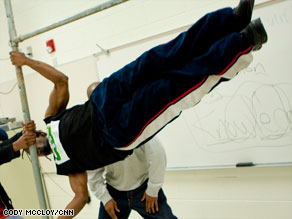 One of the Bartendaz, Metaphysics, performs the flag move during a demonstration at an Atlanta-area school.
These fitness gurus aren't promoting underage drinking. Named for the creative moves they perform on the pull-up bar, the Bartendaz are empowering youths through calisthenics.
By ditching free weights and weight machines in favor of using their own body weight on the bar and the floor, the Bartendaz have developed a series of acrobatic strength exercises that have sparked attention on YouTube and from such celebrity clients as rapper Ludacris and mixed martial arts champion Rashad Evans. Some members also earned a stint with New York's Apollo Circus of Soul.
But Bartendaz founder Hassan Yasin's proudest achievement is his program's impact on youths.
"My number one claim to fame [is] ... when I walk in the park and they're not chilling on the benches, they're at the bars," said Yasin, 40. "All the guys that [were] hanging out there, taking up space, [are] now leaving because there's too many youth coming back."
Dozens of New York City schools have adopted Bartendaz moves into their physical education programs through grass-roots networking, Yasin said. He believes the exercises resonate among students who have been otherwise tough to reach.

See the Bartendaz in action »
House Call
Watch "House Call with Dr. Sanjay Gupta" this weekend
7:30 a.m. ET Saturday and Sunday

The Brooklyn Academy High School for at-risk students incorporated the program into its curriculum to motivate students to become more involved in physical education, said principal Elaine Lindsey. But the kids love it so much, she said, that it became "a tool to motivate the students to actually come to school."
The minimal equipment makes it financially and logistically accessible without the need of a gym. And the use of body weight, instead of free weights, keeps it safe for young bodies, said Dr. Stephen Sanders, the director of the School of Physical Education and Exercise Science at the University of South Florida. As a general rule, children should not lift heavy weights until after puberty, when their muscles are more mature, said Sanders, who is not affiliated with the Bartendaz.
The Brooklyn Academy was unable to afford the Bartendaz visits this year, which Yasin says cost about $400 to $600 per session for 25 to 30 students. But, Lindsey said, "Once they mastered it here, they could always do it [at] home or anywhere."
The Bartendaz have also found success teaching juvenile and adult inmates at Rikers Island, the New York jail facility -- an idea met with resistance about five years ago.
" 'Don't bring fitness in there. They're in jail, what are you doing?' " Yasin said, quoting early critics. "I said, 'It's like stress management. Give us an opportunity to present it.' Once we presented it, that was it. We started putting bars in the yard so the young men can work out."
"They put us in the worst buildings, the most violent, and we became a breath of fresh air because there [are] no organizations going inside. So for one to come inside, it gives ... the inmates the opportunity to come out and say, 'Let me listen to what they have to offer. And now I can get out of my cell,' " Yasin said.
Learning from someone who's been there
This wasn't Yasin's first experience with the New York City Department of Corrections. A native of Manhattan's Lower East Side, he spent four years behind bars in his early 20s and did time at a juvenile facility at age 17, both for drug-related charges.
After his release in the early 1990s, Yasin cleaned up his act and became a motivational speaker -- talking to New York youths about substance abuse awareness, conflict resolution, gang prevention and leadership -- which evolved into his nonprofit, Giant Thinking. Meanwhile, he was honing his acrobatic skills on the pull-up bars at local parks, and eventually gained a following and partners-in-training.
Health Library
Having built up respect from teachers and administrators at New York City schools, Yasin and his team were tasked with developing a program to get kids to stop cutting gym class.
"The ultimate thing was ... how can we do this in a way we don't have to use a whole bunch of equipment?" said Dr. G (short for Dr. Goodbody), one of the Bartendaz whom Yasin consulted in developing the school initiative. "So the concept of anytime, anywhere exercises came about."
Today, as the Bartendaz visit schools and other facilities, they divide their time between spreading the positive messages of Giant Thinking and the fitness training of Bartendaz.
The model effectively held the attention of students at Crossroads Second Chance South. Through a partnership with Atlanta, Georgia, nonprofit Next Century Youth, the Bartendaz recently held a series of demonstrations in the Atlanta area, including Crossroads South, an alternative high school for students who have been expelled.
After high-fiving one another for successfully naming 10 fruits that promote good health, the Crossroads South students gave a standing ovation for their classmates as they joined the Bartendaz for compound moves on the pull-up bar and on the floor for pushups.
Exercising at the pull-up bar brings a camaraderie that you don't see among weight lifters, Yasin said.
"[You see] healthy competition and a lot of smiling going on, versus the aggression" involved in weight lifting, Yasin said. There's "nothing to talk about when you're lifting weights. They're dead serious."
Crossroads South PE teacher Rachelle Bradley said she hoped to work further with the Bartendaz to incorporate their moves into her teaching.
"It's very practical, not something structured. ... Our students don't like structure, and this is more creative," Bradley said.

Bartendaz fan Justin Kemp, 18, found the group on YouTube about a year ago and took on its exercise techniques soon after. Before long, he went from doing three pushups during television commercial breaks to being able to do 100 to 150 consecutively, he said.
"I feel challenged," Kemp said. "I love when I'm challenged because ... it keeps me on top of my game."
E-mail to a friend

All About Exercise and Fitness • Education