By Madison Park
CNN





(CNN) -- For most, the flu is a winter inconvenience -- stuffy nose, fever, body aches and a few days of bed rest. But what seems fairly routine also can become life-threatening.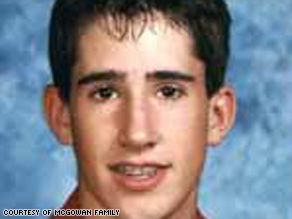 Martin McGowan died at the age of 15 after falling ill with the flu in February 2005.
The majority of flu deaths strike the elderly and people with pre-existing health problems. But flu also affects kids with no known medical problems and can send them into critical condition, or even death.
This flu season started slowly, and doctors anticipate the peak will occur this month or April. Dr. Len Horovitz, a pulmonary specialist at Lenox Hill Hospital in New York, has been giving booster shots to patients who were vaccinated early in the season, September or October.
"There's a decline in antibody levels, so we try to give a booster," Horovitz said. "I've been talking to immunologists [about] getting a booster-- there's no downside to it."
Although doctors advise that nearly everyone should get a flu shot, skepticism about the severity of the illness and questions about shot's effectiveness persist.
The Journal of the American Medical Association released three studies about the flu Monday. One reports that some flu viruses circulating during the 2007-2008 season were resistant to Tamiflu, an antiviral flu medicine. But those who had the strains resistant to Tamiflu did not get sicker than other patients. Read more on the rise in Tamiflu-resistant flu
During the 2007-08 flu season, Centers for Disease Control and Prevention recorded 86 pedatric deaths from flu-related complications.
The virus causes inflammation throughout the body and disturbs the functions of the body, including breathing.
Don't Miss
Deaths from the flu are "most likely respiratory-related," said Doug Hardy, an infectious diseases specialist at the University of Texas-Southwestern Medical Center in Dallas. "Flu can cause heart inflammation, lung inflammation." Co-infections also play a role.
Four years ago, Martin McGowan, 15, came home after trying out for his high school baseball team and slumped in front of the television. His mother, Diane McGowan thought it was unusual for her athletic teenage son.
"He just wasn't his active self," she said. "He usually reminded us of Tigger, bouncing all over the place."
He went to bed that night complaining of flu-like symptoms.
"He had a temperature," said McGowan of Nazareth, Pennsylvania. "It was 102. I knew the drill, give them ibuprofen or Motrin, give them something for the pain, and call the doctor the next day and see how it goes. That's the normal case."
That night, Martin vomited a couple of times, complained of pains in his legs and his lips were turning white. They rushed to the emergency room.
The doctors said he had the flu.
"Even at that point, I didn't understand how sick my child was in the emergency room," McGowan said. "Influenza doesn't come across like that."
The day before, Martin had gone running, which had irritated his leg muscles. The condition in his leg had developed into compartment syndrome, which limits blood circulation and causes leg pains. Doctors said he needed surgery as soon as possible.
While he was wheeled into the operating room, Martin turned to say: "Mom, don't cry. It's going to be OK."
Martin died in the operating room.
"To hear that, it's heart-wrenching," his mother said. "The autopsy confirms it's influenza, it rips your heart out."
"He was a very healthy, active 15-year-old. He hadn't been feeling well for one day. It hit him hard. It hit him like a lightning bolt. Within 15 hours, he was gone," she said.
Cases like Martin's have baffled scientists, who usually see between 50 and 150 pediatric flu deaths a year in the United States.
Typically half of the flu deaths occur in children who have degenerative heart or lung disease or immune risk factors, but the other half are seemingly healthy.
"There isn't a good understanding of why that happens," said Dr. John Treanor, professor of medicine and of microbiology and immunology at the University of Rochester School of Medicine. "There's speculation that these children, for genetic reasons, had unusual immune response to the flu, resulting in deaths."
A person infected with the flu has weakened lungs and immune system, and could contract bacterial pneumonia or methicillin-resistant Staphylococcus aureus, or MRSA.
Of the nine pediatric deaths reported this season, bacterial co-infections were confirmed in six. Four of them also had staphylococcus infections.
"That seems to be where a lot of people end up dying," Hardy said. "It's a combined killer with flu and bacterial pneumonia. More of the people who do die have co-infections. You don't have to be a weakened person without medical problems to die from the flu."
Diane McGowan joined a group, Families Fighting Flu and started campaigning for the CDC to extend its flu vaccine guidelines, which had previously recommended annual shots for children between the 6 month and 5 years. Beginning with this flu season, the agency extended recommendations to 18-year-olds.
"It's very sad to know that just a simple flu vaccination could've helped him (Martin)," McGowan said.
The CDC estimates that more than 200,000 people are hospitalized and about 36,000 people die every year from flu complications.
Don't Miss
Despite warnings, many don't get the flu vaccine because of the perception that it isn't effective.
"It's a good vaccine, but there's a problem with the flu vaccine," Hardy said. "You're predicting what's going to happen, before it happens. It's a betting game."
The viral strain changes every year, so health officials try to predict which strains will be circulating next season.
When McGowan meets a skeptic about flu vaccines, she recounts Martin's story.
"I want to have parents understand it's not normal for children to die from the flu. I want them to get them protected, give them a fighting chance. The strain is always changing," she said. "Unfortunately, it's a hard lesson to learn. We don't want them to learn it the way we had to learn it."
E-mail to a friend

All About Influenza • Centers for Disease Control and Prevention