By Sabriya Rice
CNN Medical Producer





(CNN) -- When it comes to educating about cardiovascular health, Rani Whitfield is proving that it's not only what you say but how you say it.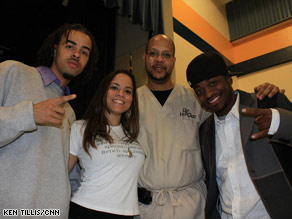 "Dee-1" Augustine, Arianne Deruise, "tha Hip-Hop Doc" Rani Whitfield and "DJ Eagle Eye" Boatner.
He's found a unique way of combining two of his passions, music and medicine, to help address troubling health disparities among African-Americans. When he's not seeing patients, he's in the sound studio, creating hip-hop songs about medical conditions like obesity, heart disease and stroke in an attempt to educate the black community.
"I started to notice there was an affinity towards hip-hop music," said Whitfield, who is also a national spokesman for the American Stroke Association. He says that is what prompted him to found the Hip Hop Healthy Coalition. "I was hoping maybe I could get involved in the culture and have some positive influence on it."
And that's exactly what he's done. By speaking in a language young people can relate to, he's getting them to pay attention.
"We've got to exercise; we've got a silent killer. We've got to open our eyes. We've got to eat right and keep our bodies tight," he rhymes in one of his more popular songs, "Walk the Walk," in which he joins up with a schoolteacher and popular hip-hop artist from New Orleans, Louisiana: David Augustine, also known as Dee-1.
As a physician, Whitfield feels, it's his responsibility to do whatever he can to help empower his community. And for him, hip-hop is the perfect creative outlet because it casts a wide net.

Listen to Tha Hip Hop Doc »
"It's not just African-Americans I'm speaking to," he said. "It's white, black, Hispanic, Asian; I'm speaking to many groups with the urban concept, the urban message."
'House Call'
For more on heart scan risks, tune in to "House Call."
7:30 a.m. ET Saturday and Sunday

And perhaps he's on to something. It's commonly noted that socioeconomic and cultural differences among minority groups influence patterns of disease and health outcomes. Several studies suggest that ethnic minorities are suffering disproportionately.
According to the Department of Health and Human Services, heart disease is the leading cause of death for African-Americans, Native Americans and Hispanics in the United States; it's the No. 2 killer of Asian-Americans.
African-Americans have the highest rate of high blood pressure of all racial groups, putting them at higher risk for heart disease, stroke and congestive heart failure. Similarly, nearly 20 percent Asian-American adults suffer from hypertension. And of the largest Hispanic subgroup in the United States, Mexican-Americans, 73 percent of the women are overweight or obese, one of the leading risk factors for heart disease. Track your health statistics here
Why the disparities? As with many chronic conditions, experts cite factors including genetics, environment and access to affordable care.
Cornelius Flowers, a cardiologist with Emory University, says that knowing about these differences can be a matter of life or death for a patient.
Don't Miss
According to Flowers, even today many doctors don't take into consideration genetic differences that can influence not only what diseases a person may be susceptible to, but also what medications he or she can take for therapy. "Asian-Americans respond differently to medications that lower cholesterol. So we know we have to give them lower doses," Flowers explains. He also notes, "African-Americans and other groups tend to retain more sodium." As a result the same drugs may have very different results.
Environmental predictors of cardiovascular risk are equally as pertinent. In poor neighborhoods, access to healthy food and to quality care is often scarce. For many of the nation's poor, especially immigrant groups, Flowers says, they may not have the money to buy the right kind of food, so families turn to fast food or other high-calorie meals. Visit CNNhealth.com, your connection for better living
Other studies show how stressors such as neighborhood violence or inaccessibility to walking routes or gyms increase the risk. Flowers says the failure of physicians to take into consideration environmental factors such as these in diagnosis and treatment can result in suggestions that prove irrelevant. "You may have the best medication. You may have the best advice. But if your patient is not getting the message, then it's just no good."
That's why both Flowers and Whitfield agree that traditional messages just aren't working. Most minorities aren't coming in to the doctor for prevention; they're coming in to manage chronic conditions. Their illnesses are being diagnosed at later stages, and as a result, they have more severe outcomes.
Both experts say more needs to be done to get the attention of the patients through culturally sensitive communications.
Health Library
"It's going to take young African-American, Hispanic and Asian doctors to go out to talk to their communities to convince them," Whitfield said. Get involved: Find events happening in your community
The need to capture that attention is one of the main reasons Whitfield is being creative. There's some evidence it's working.
Take Dwayne Thomas, whose daughter Dominique is a student at Lowery Intermediate School in Donaldsonville, Louisiana, where "tha Hip-Hop Doc"and his group recently performed.

Thomas says his daughter has been talking about the music. "I think it's a good thing that she would pick up on it and can relate to some of the things we're doing at home."
Which is exactly what Whitfield intends."Those messages do get to the young people and do get to their parents, so, you know, I'm hoping it's a continuous cycle."
E-mail to a friend

All About Hip-Hop Culture • Stroke • African-American Issues