By Madison Park
CNN





(CNN) -- The perception is that 20-somethings are youthful and robust, in the peak of their health.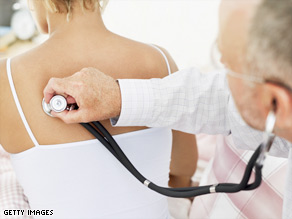 About a third of young adults between the ages of 20 and 24 lack health insurance.
But a report released Wednesday by the Centers for Disease Control and Prevention indicates that young adults have their fair share of health woes.
A third of 18- to 29-year-olds, a demographic the insurance industry calls "young invincibles," are cigarette smokers. A quarter are obese, as the rates among young adults have tripled in the past three decades. Nearly two-thirds of young adults reported not having regular leisure-time physical activity.
"At that age, people tend to be healthy but take it for granted," said Dr. Jennifer Shu, CNNhealth's Living Well expert. "Diabetes and heart disease start at much earlier ages now. The obesity and cigarettes can impact how young you might be when you get a serious illness."
And when young adults get seriously ill, they can find themselves in a bind: A third of people ages 20 to 24 are uninsured. They are too old to qualify for their parents' insurance, looking for work or in a job that doesn't provide health insurance.
"It's a transitional time in people's lives," said Sara Collins, an economist and assistant vice president for the Program on the Future of Health Insurance at the Commonwealth Fund.
The organization's research about young adults found that a year after they'd finished school, a third of college graduates lacked health insurance.
"Young adults often lose coverage if they don't go on to college," she said. "If you're insured through Medicaid or a state insurance program, when you turn 19, you're reclassified as an adult; you lose coverage."
Dr. S. Todd Callahan, an assistant professor of pediatrics at the Monroe Carell Jr. Children's Hospital at Vanderbilt University, has seen teenage patients with chronic health conditions such as diabetes, congenital heart disease and cystic fibrosis age out of their family's insurance.
"They're navigating the changes in health insurance," Callahan said. "Many of them struggle, fall out of care. We have patients we see, all of a sudden we don't see them any more, only to re-emerge with a health care crisis. They're trying to navigate the system, and there are lots of gaps."
Attention is focused on teenage years, but the young adult years are often neglected, he said. "When a youth reaches their 20s, they're in a vulnerable time. The social supports for adolescents fall by the wayside, become discontinuous."
Deaths caused by suicide, homicide or accidents are two to three times more likely for young adults than for adolescents, Callahan said. The CDC reports that in 2005, unintentional injuries, homicide and suicide accounted for 70 percent of deaths among young adults 18 to 29.
"There's a perception that after adolescence, it's smooth sailing -- that if we just get adolescents through their adolescent years, things get better and easier," Callahan said. "Instead, many of the same things we worry about in adolescence get worse, and the social support fragments beneath them."
According to the CDC's 2008 statistics on the nation's health, 45 percent of young women between the ages of 20 and 24 in the United States were infected with human papillomavirus, which can cause cervical cancer, in 2003-04.
This is problematic for people who don't regularly get medical care, said Shu, who is also a pediatrician with the Children's Medical Group in Atlanta, Georgia.
"The prevalence of HPV -- that's just one sexually transmitted infection," she said. "There's so many others that are very common in young women. A lot of women don't get tested, because many of them don't cause symptoms. There are hidden illnesses that they don't realize, because they don't feel sick."
The CDC report also said:
Almost 40 percent of adults 18 to 20 years of age, about one-third of 21- to 25-year-olds and a quarter of 26- to 29-year-olds reported using an illicit drug in the past year.
One-fifth of young adults reported having five or more drinks in a day on at least 12 days in the past year.
Young adults also have one of the highest rates of injury-related emergency department visits of all age groups.
Health insurance
Some experts argue that because young adults are an inexpensive group to insure, age limits in the federal program State Children's Health Insurance Program should be extended.
Health Library
Other efforts have been launched to reach the young and uninsured. In 2004, Anthem Blue Cross and Blue Shield and Blue Shield in California introduced a health insurance option geared towards young people, called Tonik. Insurance information is written in more youthful language, and the Web site flashes images of young people. According to the company, approximately 78 percent of Tonik enrollees were previously uninsured.
Even with health care plans, young people have trouble paying for health insurance. With grim economic forecasts and more than half a million jobs lost in January, many can't afford the coverage.
Dr. Jay Parkinson, chief innovation officer of Hello Health, suggested finding an affordable physician and paying cash for visits to the office.
"If you're looking to prevent financial ruin [in case of a medical emergency], you can purchase the highest-deductible insurance you can get," he said. "People young and healthy only use the doctor three or four times a year, so the amount of money you save with a high deductible, you can put that into an account as a buffer [for the deductible]."
For example, he said, a health insurance plan in New York with a high deductible would cost about $150 a month, compared with a $600-a-month plan with a lower deductible.
E-mail to a friend

All About Health Care Costs • Obesity