Editor's note: Campbell Brown anchors CNN's "Campbell Brown: No Bias, No Bull" at 8 p.m. ET Mondays through Fridays. She delivered this commentary during the "Cutting through the Bull" segment of Friday night's broadcast.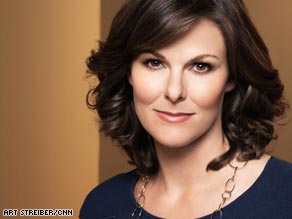 CNN's Campbell Brown says misinformation abounds on the subject of vaccines and autism.
(CNN) -- I knew I was stepping into the middle of a huge controversy when Thursday night, I urged all parents to vaccinate their children.
And boy have we heard from you!
Over the last 24 hours, my in-box has been overflowing.
As we told you last night, a court ruled Thursday that there's no evidence of a link between childhood vaccinations and autism.
Unfortunately, an increasing number of parents still believe the myth that there is a link and avoid vaccinating their kids. This is one of the reasons measles is on the rise.
As I explained last night, a baby needs to be 12 months old to get the measles vaccine.
That means that infants are protected from the measles only because everyone they come in contact with, we hope, has already been vaccinated. As adults increasingly refuse to vaccinate their children, we will continue to see a rise in measles outbreaks.
I want to thank everyone for taking the time to write, I'd like to share some of your responses:
Sherry from Kentucky strongly disagreed with me, saying, "I have no faith that the government would tell the American people the truth about vaccinations. If they would, they would cause panic and no one would get their kids vaccinated. I chose not to vaccinate my four boys, and I am happy with that choice."
Several nurses and doctors wrote e-mails like this one from Dr. Arvind Shah in New Jersey, "Misinformation has scared and confused lots of parents. Your fine piece of journalism will serve a lot of children, their parents and us pediatricians well."

Many of the e-mails we received raised a lot of questions. It is clear there is so much misinformation out there on this subject.
The opinions expressed in this commentary are solely those of Campbell Brown.
E-mail to a friend