By Shahreen Abedin
CNN Senior Medical Producer





(CNN) -- Judy LaCour has been taking a multivitamin supplement for the past 30 years: "As often as I can remember, which isn't always, but on and off since I was in my 40s." She buys them in bulk from her local wholesale warehouse.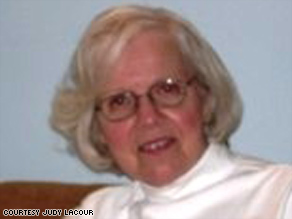 Judy LaCour, 69, took vitamins in part to lower her risk of chronic diseases, including cancer and heart disease.
Part of the reason she has been taking the daily vitamins are her mother and father, who were 71 and 68, respectively, when they died of cancer. Now 69, Judy recalls that she wanted to lower her risks of chronic diseases, including cancer and heart disease. "I assumed that the vitamins were a factor that would bring more quality to my life and help me live longer."
But a new large-scale study on multivitamin use for cancer and heart disease prevention suggests that LaCour might need to re-assess the value of her supplements. One of the largest to examine diet and health practices among postmenopausal women, the study shows that taking a multivitamin does not lower the risks of various cancers, including breast, colorectal, endometrial, renal, bladder, stomach, lung and ovarian cancer.
Nor did the multivitamins work against heart disease events (heart attack or stroke) or death.
The researchers, led by nutrition epidemiologist Marian Neuhouser, analyzed data from more than 161,000 women ages 50 to 79 who participated in the Women's Health Initiative observational study for an average of eight years during the 1990s. More than 41 percent of them used multivitamins.
The results are published in this week's Archives of Internal Medicine.
"Consumers are bombarded with messages to use dietary supplements, from commercial broadcasts, from news media reports, even from their own health-care providers," Neuhouser explained. But with respect to postmenopausal women seeking to lower their cancer or heart disease risks, "It's a wash. They don't do you harm, nor do they help, either."
The current analysis adds to a growing body of disappointments surrounding dietary supplements and their ability to lower risks of various cancers.
In December, an analysis published in the Journal of the American Medical Association regarding the Selenium and Vitamin E Cancer Prevention Trial trial found that neither of the supplements provided a benefit in prostate cancer prevention. Last month, results of the long-term Physicians' Health Study II reported that that neither vitamin E nor vitamin C supplements lower the risk of prostate cancer.
More than half of all Americans take some type of dietary supplement, often for disease prevention. These antioxidants were thought to hold the same benefits that diets high in antioxidants have been shown to provide in previous clinical research.
"Population studies have shown that if you eat fruits and vegetables, your chances of cancers are relatively low compared to people with deficient diets," confirmed internist Aditya Bardia, an oncology fellow at Johns Hopkins University. "But when they tried to convert those nutrients into tablets, that's where the failure has been."
When LaCour learned the results of this latest study on women in her own age group, she responded with surprise. "I'm not the most talented cook, and I'm not the greatest dietitian, so I thought taking vitamins would help fill in the gaps in our diet."
She says that fortunately, she has been fairly healthy, eating a reasonable diet. Until a recent foot injury, she used to walk every day. She spends most of her time outside of work with her husband and her young grandchildren. She says she will probably make a bigger effort to get a balanced diet.
Health Library
Bardia, who has conducted his own research in the area of supplements and cancer prevention, explains that many Americans take supplements for similar reasons as LaCour's: for general well-being and to fill in any deficiencies in their diets. Since they have not been shown to cause any harm if taken correctly, and because they have been shown to help meet some diet deficiencies (e.g., anemia, night blindness), he finds multivitamins to be a reasonable choice.
"If you're taking supplements for cancer and heart disease prevention, we don't have any evidence saying it will help, but if you're taking it for general health promotion -- and if you can afford it -- then that's fine," he added.
Neuhouser, however, takes a more strident approach. "Consumers need to decide whether to continue taking multivitamins or if they would rather spend their hard-earned money buying more fresh fruits and vegetables."
Even though LaCour's parents passed on at an earlier age, she puts faith in her family history. "Two of my grandparents on each side died in their 90s. Hopefully, I got their genes."
E-mail to a friend

All About Vitamins and Supplements