By Grace Wong
For CNN





LONDON, England (CNN) -- A nurse in Jordan who was diagnosed for breast cancer last year is dying because she didn't seek treatment. The family of a woman in Tanzania didn't know she was ill until her tumor started eating through her skin.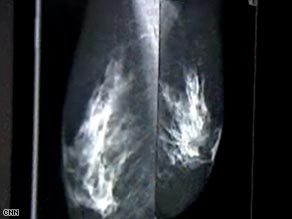 Breast cancer is the leading cause of cancer-related deaths among women.
These are just a few of the stories that highlight the challenges faced in raising awareness of breast cancer, a disease that once largely affected the West, but is now on the rise around the world.
But as breast cancer has gone global, so have the efforts to raise awareness.
U.S.-based advocacy group Susan G. Komen for the Cure launched a global expansion program in 2007 to create breast cancer outreach and education programs in countries in the Middle East, Latin America and Eastern Europe.
With programs now established in nine countries around the world, the group is taking an important step in pushing forward with its international mission.
On Wednesday it will award a series of grants to community advocates who have gone through its training program in Costa Rica, Brazil, Mexico, Romania and Ukraine.
Breast cancer is expected to be diagnosed in 25 million women over the next 25 years, with incidence rates climbing in developing countries with low resources.
Vital Signs
Each month CNN's Dr. Sanjay Gupta brings viewers health stories from around the world.


But in many parts of the world outside of the U.S. and Western Europe, awareness of the disease remains low, which ultimately leads to higher mortality rates.
"We know that early detection can save lives," says Annetta Hewko, vice president of global strategy and program at Komen and a breast cancer survivor herself.
The community grants program is part of the group's broader goal to develop a worldwide network of local activists. The first set of grant recipients are due to be announced Wednesday.
"We train people on the core elements of how to raise awareness. The grants will help them take the message to the next level," Hewko tells CNN.
Social stigma, access to health care and the quality of that care are all obstacles to identifying cancer at an early, more treatable stage, she says.
Breast Cancer Facts
A woman dies from breast cancer every 75 seconds worldwide.

Most breast cancer-related deaths over the next 25 years will occur in the developing world.

Breast cancer is the most common cause of cancer-related deaths among women.

25 million cases of breast cancer are expected to be diagnosed over the next 25 years.

Source: Susan G. Komen for the Cure
In the Middle East, for instance, talking openly about breast cancer is still rare and cultural taboo keeps many women from seeking life-saving treatment.
"Some women don't want to discuss it even because of their husband. They think that maybe their husband would leave them because of this problem," Dr. Mahmoud Sarhan, director general of the King Hussein Cancer Center in Amman, Jordan, tells CNN.
One of the nurses at his center didn't seek medical treatment until she started having back pain, he says. The pain was traced to a fracture of the vertebrae -- a result of advanced breast cancer.

Watch video about the Middle East breast cancer crisis »
It isn't just in the Middle East where silence is affecting women's health. Hewko recalls the story of a woman in Tanzania whose family didn't know about her condition until the smell of her ulcerating tumor drew their attention.
Trish Tierney, program director at the Institute of International Education, which manages Komen's global initiative, says women in varied cultures face similar issues.
For example, in Saudi Arabia and Brazil, two cultures that couldn't be more dissimilar in terms of how open people are about talking about bodies, the barriers to awareness are the same.
"You see women not prioritizing their own health. There is a barrier of fear. Everyone is afraid of cancer," she says.
The community grants Komen awards will run up to $10,000 and support a wide range of projects, from training medical professionals in screening procedures to publishing educational pamphlets in local languages.
Don't Miss
"A lot of what Komen has done is find champions and support them," Tierney says.
The goal of the grants is to identify gaps in services and advocacy and put all the skills that have been gained from the training program into practice.
One application from Costa Rica proposes to use a grant to take a play that dispels the myths and fears about breast cancer and perform it at plantations around the country.
Komen has shifted more of its attention to its international efforts since 2007, when it held a global summit in Budapest, Hungary, according to Hewko.
"That was a real catalyst for people," she says. At the conference, which brought together medical professionals, advocates and non-profit organizations, there was the sense that "we can effect change and make an impact globally."
With the collaboration of local partners, 600 individuals in nine countries -- Brazil, Costa Rica, Jordan, Mexico, Panama, Romania, Saudi Arabia, Ukraine and the United Arab Emirates -- have gone through Komen's training program.

The group hopes to eventually expand its training program beyond the nine countries where it's currently offered.
"It's one community at time. It's a big world," says Hewko. "We are looking at identifying areas where there is the greatest breast health need and where we have the ability to engage and impact."
E-mail to a friend

All About Breast Cancer • Susan G. Komen for the Cure