By Madison Park
CNN





(CNN) -- Every day, Jason Dinant chows down 16 hard-boiled egg whites, one and a quarter pound of meat and four cups of vegetables, sprinkled with an occasional carbohydrate.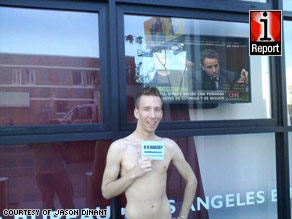 Jason Dinant does 150 crunches daily and eats lean protein in an effort to turn his flat stomach into a six-pack.
The lean protein and carbohydrates, he hopes, will help him get six-pack abs.
Two months ago, the 27-year-old began crunching initially 500 times a day and exercising to try to turn his flat stomach into a rippling six-pack.
His New Year's resolution is to get a six-pack by June, in time for his 10-year high school reunion, and to have a toned upper body for his video blog. Dinant, an iReport contributor, often peels off his shirt and gives what he calls "the naked truth about today's news" in Web videos he posts on his blog called "Naked Boy News." Watch Dinant's video
The Las Vegas, Nevada, resident submitted his story after CNNhealth.com asked viewers to upload photos and videos about their journey to change for the new year on iReport.com.
Last month, the svelte salesman by day and club emcee by night shared his exercise routine, which consists of ab crunches, cycling on a stationary bike and using weights for his upper body. Dinant, who had hardly ever exercised, also had to modify his diet.
The former junk-food aficionado had to give up his chocolates and hard candies for grilled chicken breasts, red potatoes, brown rice and steamed carrots and zucchini.
Dinant's six-pack diet
Meal 1: 8 egg whites, 2 servings of cream of rice

Meal 2: 5 ounces lean meat or fish, 1 cup brown rice, 1 cup veggies

Meal 3: 5 ounces lean meat, 1 cup rice, 1 cup veggies

Meal 4: 5 ounces lean meat or fish, 6-ounce potato or sweet potato, 1 cup veggies

Meal 5: 5 ounces lean meat, 1 cup veggies, 6-ounce potato

Meal 6: 8 egg whites, 1 serving of cream of rice

Total calories: 2,054

"Everything is natural," Dinant said. "There is no processed food, no junk stuff. People think that's crazy. They say, 'You're on a crazy diet. Why are you starving yourself?' People think eating healthy is starving yourself, which I don't get."

He's far from starving himself. He eats nearly six meals a day to increase his metabolism.

Jim White, a registered dietitian and American Dietetic Association spokesman, reviewed Dinant's menu.

"This reminds me of what I was doing trying to get ripped for bodybuilding competition," White said. "It's tough to follow, but you can definitely get a six-pack with this diet."

Despite the diet's repetitiveness, "this is what it takes" for men to get a six-pack, White said.

But White had some tips for an even better diet -- add more fat. Yes, fat.

Fats compose 8 percent of Dinant's current diet.

"Even diets put together for weight loss or fat shedding, I don't recommend under 12 to 15 percent fat," White said. "Some studies say omega-3 fats can minimize body fat. ...You can get a six-pack while incorporating fats in the diet."

Skip the saturated and trans fat and go for good fats found in flaxseed oils, olive oil, natural peanut butter, nuts and avocados, which are beneficial. And add fruits to the diet, White suggested.

"Fruits are loaded with fiber, vitamins, and I think you should definitely have two fruits in the diet," he said.

Brown rice, oatmeal and sweet potatoes are great carbohydrates for the diet, he said. There were some glaring similarities between White's diet and Dinant's.

"This is pretty much my diet every day," White said. "I eat around eight to 10 eggs a day. I always get asked if I'm baking a cake or egging houses when I'm at the grocery."

Eating lean proteins helps build muscles, but Dinant may be getting too much for his weight.

"Eating protein has great benefit for rebuilding muscle and speeding up the metabolism," White said. "But too much can cause weight gain, increase the urinary loss of calcium, and cause dehydration."

He recommended that Dinant cuts back his egg whites to six and each protein portion to four ounces.

Dinant said he's not sick of his diet, which relies heavily on the same ingredients.

"I'm so used to eating the same things," he said. "I usually eat chicken all the time. This is nothing new for me. You can season as much as you want, as long as it's a no-sodium seasoning like garlic powder or barbecue powder or barbecue rubs. It's tasty and good. It's a little different."
Health Library
Dinant can keep his diet interesting by adding healthy ingredients to staples to make the foods taste better. For example, White suggests adding fruits such as blueberries to a half-cup of oatmeal and veggies and low-fat cheese to an all-white egg omelet.
In addition to revamping his diet, Dinant works out five times a week. He has cut back his abdominal crunches to 150 a day using 25 pounds of weight.
"My core abs are good. They're solid," he said. "When I do side abdominals, I feel sore the next day. It's a good burn. I've been so happy, I went tanning for the last two weeks. I look in the mirror and I'm like, 'Wow.' "

He lost fat on the top of his midsection and said he definitely sees his abs protruding in the lower midsection of his stomach. And his quest has brought him some attention.
"I cannot go anywhere in Vegas without people asking me how my abs are doing," he said.
E-mail to a friend

All About Diet and Nutrition • Men's Health • Strength and Weight Training