By Madison Park
CNN





(CNN) -- In the fight against obesity, doctors have deployed stern warnings, dieting tips, liposuction and open-incision bariatric surgery. But some surgeons have found another avenue for weight loss.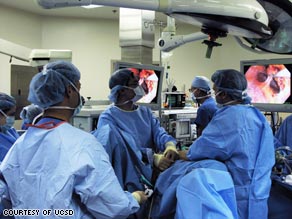 Surgeons at UCSD have reduced the stomach size of two women by going through the vagina.
A handful of surgeons are using natural orifices -- such as the mouth or the vagina -- to perform bariatric surgery, which reduces stomach size.
Surgical instruments and a tiny camera travel through the patients' natural body openings to reach the desired organ in the procedure, known as natural orifice translumenal endoscopic surgery. In the bariatric procedure, the surgeon trims the stomach to a smaller size or stitches a slight pouch in it to make the patient feel full after a modest meal.
"Perhaps to some people, physicians and patients alike, it looks strange and unusual," said Dr. John Morton, director of bariatric surgery and surgical quality at Stanford University School of Medicine in Stanford, California. "I think from a female perspective, there's a natural apprehension in terms of having surgery done through [the vagina]."
Because no incisions are made through the external skin, the surgery reduces risks of infection, is less painful and leaves no scars, proponents say.
"We're trying to make a surgery that can minimize trauma," said Dr. Santiago Horgan, director of the University of California at San Diego Center for the Future of Surgery and Center for the Treatment of Obesity.
So far, American doctors have removed gallbladders, a kidney and appendixes through vaginas, pulled appendixes through mouths and repaired a hernia transvaginally. These surgeries are part of clinical trials and not used in general practice.
Horgan and doctors at UCSD have done about 50 natural orifice procedures-- 34 of them have been transvaginal gallbladder removals. Two of the procedures were gastrectomies, where 70 percent of patients' stomachs were removed through the vagina.
Women have an advantage because the vagina provides a direct access into the body, Horgan said. The vagina requires little to no cutting, and heals extremely well.
"We have three patients who got pregnant [after a transvaginal surgery], so pregnancy isn't an issue," Horgan said.
Female patients who've gone through a transvaginal surgery usually complain of pain they normally feel during their period. Others who've had a procedure through their mouth complain of a sore throat.
"The pain level's lower and, of course, the cosmetic result is incomparable," Horgan said.
For men, there have been ideas about using the penis as a natural orifice, but that's been dismissed because the point of entry is too small.
"If you're male, you're going to have to go through the rectum," said Dr. Sayeed Ikramuddin, director of gastrointestinal surgery at the University of Minnesota Medical School. That procedure hasn't been done on humans because, it's "dangerous because there's a lot of bacteria that could be spilled. If you leak, it's a disaster."
The concept of using natural orifices is not new, said Dr. Mark Talamini, professor and chairman of the Department of Surgery at UCSD.
"In many ways, neurosurgeons have been viewing the brain between the mouth and the nose for quite a long time," he said. "That's already common practice. We just never called it that."
The movement got started with an appendix was removed through a patient's mouth in India in 2004. Weight-loss procedures using natural orifices are under way in clinical trials. It could minimize risks encountered in standard bariatric surgery.
"When you cut a patient that is overweight, you're much more prone to infections of the abdominal wall," Horgan said. "So if you can minimize the number of incisions you do, you minimize hernias, abdominal wall infections and skin infections."
Doctors are researching whether the less-invasive surgery could reduce risks and eliminate scars while delivering similar results. But it's too early to tell whether these surgeries carry more risk than standard operations.
Dr. Scott Shikora, president of the American Society for Metabolic and Bariatric Surgery, said he hasn't been impressed with the results.
"They're unproven," he said. "There's no long-term data. In some cases, there were human experimentation without proper studies and consent and Internal Review Board approval. They are potentially relying on mechanisms of action that didn't demonstrate themselves to be successful than when the surgery was done conventionally."
While natural orifice surgery "isn't ready for prime time, maybe it's a steppingstone to something else," Shikora said."The crazy ideas of today might be the standard treatments tomorrow."
Similar doubts came about when the laparoscopic surgeries first surfaced in the 1980s, he said. Now, laparoscopy has largely replaced open surgery.
After a laparoscopy, patients often complain of soreness, swelling and gas-related irritation.
Paul Martin felt bloated from the gas and tenderness in the four incisions after his standard gastric bypass. Although Martin said he didn't feel much pain, it took him a week before he could return to work.
Three years after the bypass, he started regaining weight. "I could eat more and was not as active as I had been," said the resident of San Jose, California. "I started putting a little bit of weight back on."
His stoma, which is the opening between his intestine and pouch, had expanded. So he returned to the operating table at Stanford Hospital.
Instead of cutting through the skin, his surgeon, Stanford's Morton lowered a surgical tool down his throat. Using that device, Morton stitched pleats to narrow the patient's stoma. There were neither incisions nor gas injected into his abdomen.
When Martin woke up, he returned to work that day with just a sore throat.
Despite the emphatic thumbs-up from patients like Martin, his surgeon said more research and better tools are needed before natural orifice surgery goes mainstream.
"At the end of the day, science has to win out," Morton said. "We have to make sure that this procedure is going to be at least as effective and safe as the original procedure. If it's not, we shouldn't be doing it just because we can."
Two groups, the American Society for Gastrointestinal Endoscopy and Society of American Gastrointestinal and Endoscopic Surgeons, formed a research group to consider issues and exchange information about natural orifice surgeries. The group is called the Natural Orifice Surgery Consortium for Assessment and Research, also known as NOSCAR.
Despite efforts to make surgery easier and more comfortable for patients, natural orifice surgery isn't a cure-all for obesity.
"Surgery is just a tool," Ikramuddin said. "You need to have given up the Doritos, given up the apple juice... If you eat like that, no bariatric procedure is going to help you, period."
E-mail to a friend

All About Surgery • University of California-San Diego • Stanford University Medical Center • Obesity