By Val Willingham
CNN Medical Producer





WESTMINSTER, Maryland (CNN) -- When Carrie Vincent of Westminster, Maryland, had three miscarriages a few years ago, her doctors put her through a lot of tests. She found she suffered from an ailment known as prothrombin gene mutation, a rare syndrome that causes blood clots.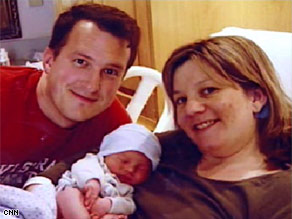 Carrie Vincent had a heart attack at age 31, just days after giving birth to her son.
Though she was aware it was a blood condition, she never thought about her heart. She didn't even know her vital numbers. So when she had a heart attack at 31, just days after giving birth to her son, it came as quite a shock. Told she had a 90 percent blockage to her heart, she now takes medication.
Eighteen months later, Vincent has become a crusader for women's heart health and holds seminars to let women know the signs of a heart attack. She also reminds them about tests they need to make sure the heart is in good shape. Her mantra is "Know your numbers and know what they mean."
Ten years ago, if you just knew your blood pressure and cholesterol numbers you were considered heart savvy. But now, with tests for heart disease factors including C-reactive protein, coronary calcium scores and high-speed scans, heart health can be pretty confusing -- and expensive. That leaves a lot of people wondering which tests are necessary for them and which ones are a waste of time and money.
The American Heart Association recommends anyone over the age of 20 start thinking about getting his or her blood pressure, cholesterol and triglycerides measured every year. Knowing your numbers early, cardiologists say, is key to preventing heart disease.
Watching these numbers over the years gives doctors the opportunity to treat patients sooner in life if their statistics fall into the danger zone.
If you are at low risk, meaning you don't smoke, sport a healthy weight, have no heart disease in your family history and have no prior conditions, such as extremely high cholesterol or type 2 diabetes, watching your numbers and having yearly checkups is the best way to go. But if you do have one of these factors, or have a relative, say a grandparent or parent who has or had heart disease, cardiologists say you may need more tests to make sure your heart is in good shape.
Although the screenings are not without controversy, some doctors recommend high resolution CT and MRI scans for high risk patients. The images are so clear, it is as if a surgeon has removed the organ from the body without using a scalpel. Doctors can diagnose heart problems much faster and more easily.
Dr. Scott Jerome, a cardiologist with the University of Maryland Medical Center, said it all depends on the patient. Those with high cholesterol can actually have images taken of their blood vessels with a 64 CT scan, a machine that offers incredible pictures of blood vessels without entering the body.
Don't Miss
The scanner is able to transmit 192 images a second to create a 3-D picture of the heart from all angles. Doctors use the scan to look for calcium in the coronary arteries, which can cause blockages. The result of this test is often called a coronary calcium score. According to Jerome, the pictures are amazing.
"They actually look at the blood vessel and see if you've got hardening of the arteries," he said.
But experts warn, because the machines use radiation, these tests should not be used as crystal balls. In the February 2 online issue of the journal Circulation, a panel from the American Heart Association's Council on Clinical Cardiology and Council on Cardiovascular Radiology and Intervention warned that "cardiac scans that use ionizing radiation should, in all cases, be used judiciously, and are not recommended for people without chest pain or other symptoms who are at low risk for heart disease."
Even more specific blood tests exist that can predict possible heart problems in high-risk patients. Do you know your LDL, low-density lipoprotein, also known as "bad" cholesterol? What about its size? A blood test can now predict the size of your cholesterol particles.
"Some people have completely normal LDL numbers, but then you break down their LDL size, we find they have small particles," he says.
Health Library
The smaller the LDL particles, the more likely they will enter the blood vessel lining, increasing a patient's risk of heart blockages, according to the National Cholesterol Education Program, a division of the National Institutes of Health.
Another relatively new screening is for C-reactive protein, a marker for inflammation that can lead to heart problems. High-risk patients should know their CRP levels, Jerome said.
"We think it irritates the lining of the blood vessel," he said. "When you irritate the lining of the blood vessels you allow the cholesterol and plaque to get inside the blood vessel."
Cardiologists say this test might be useful if you have heart disease in the family. If you don't, you can probably put this one off.
If you are still confused, experts say talk to your doctor. Ask which tests are right for you. Once you get your numbers, remember them. They could help you avoid a heart attack.
E-mail to a friend

All About Heart Attacks • Cholesterol • Cardiology