By Grace Wong
For CNN






(CNN) -- Whatever you do, don't call him Dr. House.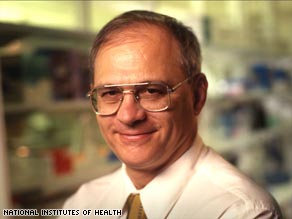 Medical mystery man: Dr. William Gahl directs a unique NIH program that takes on undiagnosed cases.
As head of a unique National Institutes of Health research program that treats perplexing medical cases that have long eluded diagnosis, the parallels between Dr. William Gahl and the curmudgeonly star of TV medical drama "House" are striking.
They're both medical sleuths who manage teams of skillful doctors. Sifting through symptoms, they attempt to assist patients desperately seeking answers about their baffling conditions.
But Gahl, the clinical director of the Undiagnosed Diseases Program recently launched by the NIH, calls the TV program "bothersome." He seldom watches a full episode and objects to the way diagnosis is portrayed on TV.
"I have been compared to him but it's inappropriate," says Gahl. "He sees acute cases and solves them right away. We see chronic cases and often don't solve them."
Plus, the pill-popping Dr. House, played by Hugh Laurie, "is not a nice guy," he adds.
While the fictional Dr. House is an obnoxious ego maniac, Gahl is the embodiment of a team player. He has to be in order to run the trans-agency program, which is jointly organized by the National Human Genome Research Institute, the NIH Office of Rare Diseases and the NIH Clinical Center.
Vital Signs
Each month CNN's Dr. Sanjay Gupta brings viewers health stories from around the world.


The program draws upon the unique combination of specialists at the medical research agency. Its goal isn't just to solve puzzling conditions. The NIH, which is part of the U.S. Department of Health and Human Services, also wants to learn more about new diseases.
There are an estimated 6,000 rare diseases, which are generally defined as those that affect a small number of people compared to the general population.
In Europe, disorders that affect less than one in 2,000 people are considered rare, while in the U.S., the term is usually applied to diseases that affect less than 200,000 individuals.
Having an undiagnosed disease can be frustrating and painful. "The letters we receive are supplicating, begging for help," says Gahl, who is an expert on rare genetic diseases.
Interest has been overwhelming. Since the program was launched last May, it has received more than 1,500 enquiries and in excess of 500 medical records. So far, it has accepted roughly 80 patients.
Don't Miss
Participation in the program is free, but in order to be eligible, patients must be referred by a health care provider and submit their medical records. A panel then determines whether the case should be accepted.
Bringing patients in and providing them attention can be very satisfying, Gahl says. Many individuals have been seeking answers about their conditions their whole life, and it's rewarding when the program is able to allay some of their anxiety.
For instance, NIH neurologists were able to verify a diagnosis of multiple sclerosis, a disease of the central nervous system that is difficult to diagnose, for a couple of the program's participants, according to Gahl.
The difficulty though lies in turning applications down, which happens when a case doesn't provide a clue for the clinic to pursue. Gahl likens the difficult process to triage on the battlefront: "People are suffering and dying because of these diseases and we're in a position to offer or not offer help."
Patients who are admitted to the program spend up to a week at the NIH clinic in Bethesda, Maryland, during which time scans are taken, DNA tests are run and tissue samples obtained.
"That week is spent collecting information for us to chew on," Gahl explains.
Unlike other programs that assign patients to a specialist first, the program takes a multi-disciplinary approach. Dozens of scientists, specializing in everything from immunology and hematology to neurology and oncology are on hand to consult on each case.
"We take an approach to the whole person and then put it all together," Gahl says.
He recalls one case involving a woman who had leaky membranes and capillaries and suffered from kidney failure. Her shins were also an odd, brown color and leathery in texture.
The team determined that the discoloration on her shins was a side effect of a dye commonly used in imaging tests run on patients who suffer from kidney disease.
Having consultants from a range of specialties working on a case helps the doctors ferret out symptoms that aren't related to a patient's primary defect, according to Gahl.
The goal is to reach a diagnosis, but the doctors aren't always triumphant. In fact, the NIH stresses that even if patients are accepted for evaluation, many will not receive a diagnosis.
Still, the clinic keeps the records and charts of its patients in case a new disease is found elsewhere, Gahl says.
"We store the records and think about these cases. I think there is some longevity to the pursuit of diagnosis even though patients are discharged after a week."
The response to the program has been so overwhelming, it has already been expanded and received additional funding.
Gahl hopes one day similar clinics could be established at medical centers across the U.S. But before that goal can be pursued, there has to be some success to the NIH program.
"There has to be not just patient satisfaction, but academic scientific findings obtained as well," he says.
E-mail to a friend

All About National Institutes of Health • Medicine • Health Care Issues