(CNN) -- California octuplets believed to be the nation's second live-born set were "doing very well" one day after their birth, and aside from some oxygen assistance, all the babies were breathing on their own, doctors said Tuesday.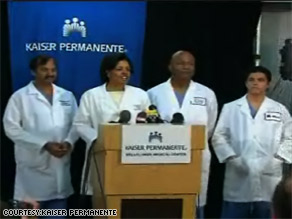 "They had a very good night," director of neonatology Dr. Mandhir Gupta, far left, said of the babies.
The babies' mother, who is recovering from her Caesarean section, has not been able to visit the babies in their incubators, but is "very excited" when hospital staffers bring her pictures, said Dr. Mandhir Gupta, director of neonatology for Kaiser Permanente's Bellflower Medical Center in Bellflower, California, where the octuplets were born.
"They had a very good night," Gupta said of the babies -- six boys and two girls, ranging in weight from 1 pound 8 ounces to 3 pounds 4 ounces. "Their vitals remain stable. They were sleeping comfortably."
Their mother, who hospital officials said wants to remain anonymous, will likely be able to visit her babies later Tuesday night or Wednesday, he said.
Two of the babies were on ventilators, or breathing tubes, in the hours after their birth, but those tubes were removed Monday night, Gupta said. While some of the babies are receiving oxygen through their noses, most of them are breathing by themselves, he said.
Gupta said four of the babies will begin feedings Tuesday, and feedings will be increased once the newborns' tolerance improves. "They are kicking," he said. "They are doing amazingly well."
The babies have not been named yet, said Dr. Harold Henry, the hospital's chief of maternal and fetal medicine. Asked if the babies' mother was aware of the publicity the births have generated, he said, "To some degree, yes."
Doctors initially believed the woman was carrying seven fetuses. She was put on bed rest at 23 weeks, and delivered the babies at 30 weeks. A team of 46 doctors, nurses and other staff prepared for the births over that seven-week period.
"We were extremely well-prepared for this delivery, except for one small surprise," said Dr. Karen Maples, chief of obstetrics and gynecology for the hospital.
During the delivery Monday, doctors were taking the babies out one by one, naming them for a letter of the alphabet and giving them to an assigned nurse, she said. After "G," the team thought they had all the babies, but "I said, 'Well, now we have H, everyone,'" she recalled.
"The G nurse became the H nurse, and took it over to the F doctor ... it just went seamlessly."
Multiple ultrasounds only found seven fetuses, she said. Asked how the eighth was missed, she said, "It is just a matter of positioning. The space is rather limited."
Asked if there was a search for a ninth baby, Maples said, "Absolutely."
The babies' mother was awake during the operation, and was "sort of counting with us as the babies were coming out," said Dr. Jalil Riazi, chief of anesthesiology. "Once we went up to number eight, she as well as the rest of us were very surprised."
Health Library
He said the mother was "a wonderful patient. We were very lucky to be able to take care of her ... she's doing very well today."
Gupta refused to comment on the babies' chances of survival, since "we've never had eight babies born at 30 weeks." Single babies born at 30 weeks face "very, very good" odds, he said. With multiples, even twins, he said, "we expect them to do a lot worse than these babies are doing."
The hospital has not answered questions about whether the mother had fertility treatments.

Gupta said Monday the first three to seven days will be critical for the octuplets, saying they could be in incubators for six to eight weeks and hospitalized for 10 weeks.
Preliminary research indicates this is the second set of live-born octuplets in the United States, according to the hospital. Eight babies believed to be the United States' first set of live octuplets were born in Houston, Texas, in 1998. One of the infants died days after birth; the seven other siblings recently celebrated their 10th birthday, the Houston Chronicle reported last month.
E-mail to a friend

All About Pregnancy and Childbirth • California