By John Bonifield
CNN Medical Producer





(CNN) -- Stacey Rosenberg, a former marketing manger in Boston, knows the catastrophic feeling of a layoff. She has lost her job twice in the midst of the recession.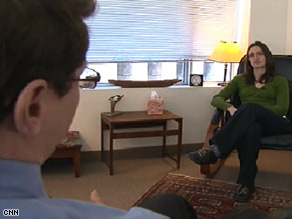 Laid off twice, Stacey Rosenberg explores with her psychologist, Ethan Seidman, proactive ways to cope.
"When I first got laid off, I sort of had a mission. I wanted to get a new job as quickly as possible, and when it became apparent that that was not going to happen very quickly, it was very upsetting for me," Rosenberg says.
Unemployed for months, Rosenberg started retreating from friends and family, spending more time by herself. Since early summer, she's sought help inside a psychotherapist's office.
"I had to figure out how to deal with it the second time around, because I did so poorly the first time around," she says.
No formal data exist on the number of Americans who are turning to therapy during the recession, but most clinical psychologists say that referrals are up.
"This is really unprecedented," says Nancy Molitor, a clinical psychologist in Chicago, Illinois. "I've been practicing for 20 years, and I'm seeing just an unprecedented amount of anxiety, as are most of my colleagues."
'House Call'
For more on the rise in the demand for therapy, tune in to "House Call" at its new time.
7:30 a.m. ET Saturday and Sunday

Rick Weinberg, a clinical psychologist in Tampa, Florida, says that in one recent week 80 percent of his patients were discussing the pain inflicted on them in the economy. His patients included a small business owner who was forced to lay off longtime staff, a family of four evicted from their home and moving into a rental, and a family with two teenagers that was down to a one-parent income and experiencing frequent spending arguments and acting out by the teens.
"All collateral damage from the economy," Weinberg says.
In therapy, Rosenberg talks to her doctor about her layoffs and the recession.
"There was a lot of thinking about how this could happen to me twice in less than a year," Rosenberg says. "We talked a lot about identity and money, and how I was going to cover my expenses."
Rosenberg's doctor, Boston, Massachusetts, clinical psychologist Ethan Seidman, says that their focus has been on finding proactive ways to cope.
"One thing that therapy can do for people who are undergoing a sort of trauma like that is to simply bear witness to what they're going through and have them not be alone in it," Seidman says. "Coming in to talk with somebody can help get them outside of themselves and help them focus on the future rather than ruminating exclusively on what's gone wrong for them."
A certain amount of anxiety is normal in a crisis, say experts. Psychologists advise seeking help when a person's feelings start to affect his or her normal function in daily routines.
Don't Miss
"I have many patients who come in to see me in such crisis, they haven't opened their bills in three months. They haven't opened their statements. They're not functioning," Molitor says. "We need to really address that in a very quick way to begin to help alleviate their anxiety enough so that they start functioning."
Some warning signs in the recession include avoiding bills or financial statements, having difficulty sleeping for two or more weeks and drinking to excess.
"It's gotten worse. It's absolutely gotten worse. Most people are feeling anxious about money right now," says Bradley Klontz, a clinical psychologist in Hawaii. "When you're struggling with money issues and it affects your ability to carry out your various roles -- if it's keeping you up at night -- I'd say that's when you know it's time."
Beyond elevated anxiety levels, there are concerns about depression and suicide.
"We've had people who are so depressed that they are thinking that maybe life isn't worth going on. It's a small number of people but, you know, that is something that we're becoming -- as this crisis goes on longer and longer -- we're becoming more concerned about," Molitor says.
Here are some tips if you're considering therapy:
1. Don't get baited by unlicensed therapists
Molitor says the recession has led many people to hang out a shingle and call themselves an expert. You want to pick a therapist who is fully licensed in your state. You generally can get a referral from your family doctor.
2. Ask your therapist to do some talking, too
Molitor says it's appropriate to interview potential therapists over the phone before you make a selection. Be sure to ask about fees and whether they'll take your insurance.
3. Struggling financially? Negotiate payments
If you're living on a small budget and uncertain whether you can afford treatment, try negotiating payment options with your therapist. When Rosenberg couldn't afford the $15 co-pay for her sessions, her therapist gave her a financial break and started her on a tab. Other therapists are offering flexible scheduling and payment plans on a sliding scale to help patients affected by the economy.
4. Still can't pay? Seek out low-cost treatment
If you're uninsured, out of work or simply can't afford treatment, there are still ways to access quality care. Most communities have state- or county-funded community mental health centers that operate with low fees. Another option is to talk with a psychologist in training. University psychology departments often offer limited counseling under the supervision of senior clinicians.
5. Ask how long your therapy is going to last
Molitor says therapists should be able to give you a range after an assessment. If your symptoms are anxiety-based and not more complicated, you could begin to feel better quickly, in as few as two to six sessions.
With her doctor's help, Rosenberg says she's feeling better. Although she says that she still operates in a financial deficit, she's being careful to deplete her savings as slowly as she can. She's also pursuing new career possibilities as a personal fitness trainer.
"When you were trying to pursue the office jobs, there was a really deadened quality to you inside," her therapist noted during a recent session. "Now, as you're pursuing this new career, which you probably wouldn't have if you hadn't been laid off, there seems like something much more sparkly in you."
Rosenberg agrees.
"There's a lot of freaking out when this first happens to you," she says. "Now I feel like I have a team. I have my friends. I have my therapist. I have my family. I have a team behind me, and they won't let anything terrible happen to me."
E-mail to a friend

All About Suicide • U.S. National Economy • Depression