By Shahreen Abedin
CNN Medical Producer





(CNN) -- At 90, Melvin Seeman's daily objective is to enjoy every moment of life to its fullest.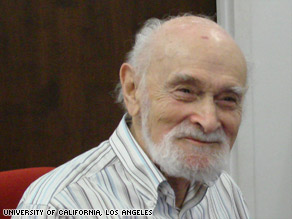 Melvin Seeman knows that alcohol has cardiovascular benefits, and he also loves wine.
He keeps busy by working part-time at the university where he taught sociology for 29 years, he has an active social life filled with concerts and travel, he goes out for walks three or four times a week, and just about every evening, he and his wife, Alice, share half of a bottle of wine together. "Preferably good wine," Seeman adds.
Seeman is well aware of the cardiovascular benefits that alcohol confers -- a bonus of his interest in wine.
Fortunately for Seeman, there's even more good news about the benefits of alcohol, specifically for his age group. A new study in the American Journal of Epidemiology found that healthy seniors who consume light to moderate amounts of alcohol reduce their odds of developing physical disabilities or dying in the next five years by 23 percent, compared with either heavy drinkers or those who abstain.
By reducing the odds of developing physical problems, seniors can prevent the onset of difficulties with everyday tasks such as getting dressed, standing up without help and grooming. Dr. Michele Bellantoni, a geriatrician from Johns Hopkins University School of Medicine, characterizes these daily tasks as critical to maintaining quality of life among seniors.
"It's the difference between living independently and requiring nursing assistance, nursing home care or dependence upon someone else. Any intervention that might reduce this risk is worth looking at," says Bellantoni, who was not involved in the study.
Seeman knows all too well of the challenges posed by the physical disabilities associated with advanced age. Although he is largely free of problems with daily functioning, his wife, who is 91, had a stroke two years ago, causing her to slow down in many of her everyday physical tasks.
"Being 91 has its disadvantages," he told CNN, referring to his wife, "but I'm able to keep up with what I need to do."
In the study, "seniors" referred to men and women over age 50. Light to moderate drinkers were defined as those who consumed fewer than 15 drinks a week and fewer than five per day (fewer than four daily for women); heavy drinkers were those who consumed 15 or more drinks weekly (or five or more per day); and abstainers were those who drank fewer than 12 alcoholic drinks during the last 12 months.
The researchers, led by Dr. Arun Karlamangla, a geriatrician at the University of California, Los Angeles, analyzed data taken from the National Health and Nutrition Examination Survey's Epidemiologic Follow-up Study, which included self-reported data from more than 4,200 men and women. About 92 percent of study participants were white; the average study participant was 60 years old.
A major caveat regarding these findings is that in order to reap the protective benefits of alcohol consumption, the participants had to be healthy to start with. Those who reported themselves as being in poor or fair health did not see any benefits from alcohol consumption.
The study did not look at the causes behind the association between alcohol consumption and protection against physical disabilities and death. However, Karlamangla suggests that if alcohol indeed causes a slowing of atherosclerosis (the hardening of arteries) -- as the researchers suspect -- then seniors who drink alcohol might be less likely to experience a decrease in blood flow (and other related mechanisms) that contribute to the body's physical processes slowing down.
Health Library
Another possible explanation Karlamangla offers is that the well-documented cardiovascular benefit of raising good cholesterol levels through alcohol consumption could actually be the same mechanism that's providing the protection against disability that healthy seniors see.
Bellantoni points out how rare it is to find something that people can derive pleasure from, that can also be beneficial to their health, and that doesn't come in a pill.
"Usually, it's a lot of work and not enjoyable," she explains.
She says she enjoys a glass of red wine every night, and she encourages her own patients to drink (in moderation) to their health, too.
E-mail to a friend

All About Aging and the Elderly • Wine