(CNN) -- Kellogg officials said Friday they are voluntarily recalling 16 products that contain peanut butter that could be connected to a recent salmonella outbreak.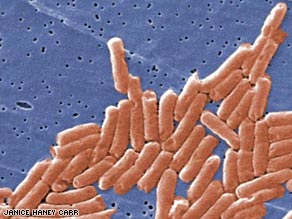 The FDA says a Blakely, Georgia, peanut butter plant is the focus of its salmonella investigation.
The Kellogg products to be recalled include Keebler cheese and peanut butter sandwich crackers and Keebler and Famous Amos peanut butter cookies said Kris Charles a company spokeswoman.
According to the Food and Drug Administration, salmonella was found in the Blakely, Georgia, plant of Peanut Corp. of America, which works with Kellogg.
Preliminary investigations suggest that peanut butter and peanut paste manufactured by Peanut Corp. to be used in products like cookies, crackers and ice cream is the probable source of illness.
The FDA says the Blakely plant is the focus of this investigation. Peanut Corp. voluntarily recalled peanut butter produced at the plant Tuesday.

What you need to know about food poisoning
The Centers for Disease Control and Prevention says 453 people in 43 states and Canada have been infected with salmonella Typhimurium.
Twenty-two percent of those have been hospitalized, and five deaths have been associated with the outbreak. North Carolina is reporting a sixth death that the CDC has not confirmed.
Four of the six people who died had underlying illnesses that compromised their immune systems, making them more susceptible to severe side effects of salmonella infection.
King Nut Co., which distributes peanut butter made by Peanut Corp., voluntarily recalled its products January 10, after an open container contaminated with Typhimurium was found in a nursing home in Minnesota.
King Nut distributes to institutions like nursing homes, schools and restaurants. Its products are not on supermarket shelves.
The Food and Drug Administration is taking the lead in this investigation and working with the CDC to confirm the source of the outbreak.
"Peanut butter is not a food that supports the growth of bacteria in general," according to Dr. Stephen Sundlof, director of the FDA's Center for Food Safety and Applied Nutrition. But he says that once contaminated peanut butter is consumed, the bacteria can multiply quickly and make people sick.

Two years ago, another strain of salmonella found in a different peanut butter plant was linked to an outbreak that infected more than 600 people in 47 states. At the time, the salmonella was found dripping from pipes into the vats of peanut butter.
At this point, the FDA says, it cannot reveal where the salmonella was found in Peanut Corp.'s Georgia plant.
E-mail to a friend

CNN's Saundra Young and Miriam Falco contributed to this report.
All About Food Safety • Centers for Disease Control and Prevention • Food and Drug Administration