By Elizabeth Cohen
CNN Senior Medical Correspondent





(CNN) -- In the midst of a frantic week in September filled with auditions and deadlines, New York casting director Michael Cassara had zero down time. So one day, when he felt a sore throat coming on, Cassara had his doctor beamed into his office.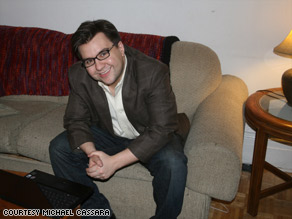 Michael Cassara was too busy to visit his doctor's office, so he had his doctor come to him -- virtually.
Cassara didn't use lasers; he used his laptop. Logging into his account at hellohealth.com, Cassara clicked on the link for video chats and made an appointment, and an hour later, Dr. Sean Khozin popped up on his screen.
Based on how Cassara was feeling and his propensity to get strep throat, Khozin diagnosed a strep infection, "and five minutes later I had a prescription phoned in to a nearby pharmacy," Cassara says.
The typical visit to the doctor -- call for an appointment, go to the doctor's office, wait in the waiting room -- has remained unchanged for a very long time, notes Meredith Abreu Ressi, vice president of research for Manhattan Research, a health care marketing research firm. But she says you should expect that to start to change in 2009.

Watch more on the future of eHealth »
"Because of the Internet, we bank differently than we used to, and we plan our trips differently, and we buy real estate differently," she says. "But we still see our doctor the same way our grandparents did. I think we're about to see big changes in this area."
Ressi says to expect to see more doctors close their traditional practices and open "telehealth" practices, where they deliver all or part of their services, in one form or another, over the Internet.
This means chatting with a doctor online via video, e-mailing your doctor with a question or perhaps going to a Web site where, for a small fee, a doctor will answer your medical questions instantly.
Here are five big changes to the classic doctor's visit to look for in 2009. The changes aren't necessarily for the better or for the worse, and we're not recommending you take part in them; they're just part of the trend towards more "eHealth."
1. Online house calls
Such services are very limited at the moment, but expect to see more as time goes on. Today, Hellohealth offers patients video chats, texting, instant messaging and e-mails between doctors and patients. There's a $35 monthly fee, and each chat, IM session or phone session costs $50 to $100. Quick e-mails are free, and longer ones cost $150 an hour. Regular in-person office visits cost $150 to $200, and house calls cost $150 to $200.
Don't Miss
Here are the two catches: Hellohealth doesn't accept insurance, and you can use its service only if you live in certain parts of Brooklyn, New York. It plans to expand to other parts of New York and to Philadelphia, Pennsylvania.
American Well, another leader in this field, opens its doors January 15 in Hawaii, where patients can communicate online, via phone, text or IM with doctors 24 hours a day at a cost of $10 for five minutes for Blue Cross/Blue Shield members and $45 for non-members. American Well plans to expand to other areas in 2009.
2. Virtual clinics
Some Houston, Texas-area residents can visit clinics in various Wal-Marts, where patients speak via videolink to a physician who works in a central office. The doctor can see a patient's throat and ears via a camera at the end of medical instruments. Emergency medical technicians at the clinics operate the instruments and do hands-on tasks such as taking blood pressure and temperature. A basic office visit costs $59.
Last month, I had them do a physical on me. Click here

to see the story.
3. Ask-a-doc Web sites
What's the normal temperature for an infant when taken under the arm? If you forgot to take your medicine today, should you double up on your dose tomorrow?
If you've got a quick question, you can try to get an answer from sites that say they have various specialists on hand to give quick answers. Two examples: justanswer.com and askadoctor.com, which charges $15.95 for an answer.
Health Library
4. Getting your test results online
More and more health systems are putting test results online, so patients can have direct access.
This also means you can double-check your doctor. For example, Doug Smith, a patient at Vanderbilt University Medical Center in Nashville, Tennessee, found his own cancer in a CT scan report -- a cancer his doctor had missed. Read his story here.
5. Twittering doctors
You and your friends aren't the only ones using Twitter. Doctors are starting to use the social networking site to get answers on tough cases, says Jane Sarasohn-Kahn, a health economist and blogger at Health Populi.
"When confronted with a strange set of symptoms, some doctors are going on Twitter and asking other doctors, 'Hey, I've got a conundrum. Can any of you help me out?' "

As for Cassara, video chatting with his doctor hasn't replaced seeing him in person. He still goes into the office and also arranges for house calls.
"There are far more things they can do in the actual room than they can do online," he says.
E-mail to a friend

CNN's Jennifer Pifer-Bixler and Sabriya Rice contributed to this report.
All About Strep Throat • Blue Cross and Blue Shield Association • Wal-Mart Stores Inc.