By Grace Wong
For CNN






LONDON (England) -- A slim, easy-to-use device that checks the authenticity of medicines would be available in every pharmacy if Facundo Fernandez had his way.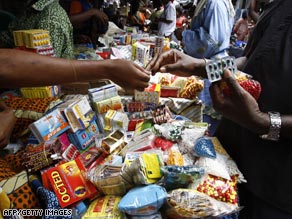 Shoppers in Ivory Coast buy counterfeit medicine at a street market.
The gadget he has in mind would provide consumers peace of mind about the safety and quality of prescription drugs -- something that is increasingly a concern amid a rise in fake medicines.
A self-described optimist, Fernandez doesn't think his dream is that far-fetched. "I think it's possible," he told CNN. "The technology is available. It's a matter of making this really widespread."
An analytical chemist and assistant professor at Georgia Tech, Fernandez has spent the better part of the last decade fighting the global battle against counterfeit drugs.
Taken with the intention of curing illness, phony pharmaceuticals undermine treatment, and in some cases, can have lethal consequences for their unsuspecting buyers.
Fernandez's work revolves around a technique, called mass spectrometry, that identifies the chemical make-up of a compound. The process is usually time consuming, but Fernandez developed a procedure for speeding up the process.
The ability to analyze the authenticity of hundreds of samples of drugs in a single day played a key role in an international operation that resulted in catching a Chinese manufacturer of fake anti-malaria drugs last year.
Are you worried about the safety of your medicines? What do you think should be done to combat the problem?
Many of the world's bogus drugs originate in Asia, particularly China, according to the U.S. Center for Medicine in the Public Interest. The fakes oftentimes are exported and change hands many times before reaching their unwitting consumers.
Vital Signs
Each month CNN's Dr. Sanjay Gupta brings viewers health stories from around the world.


"These are criminal organizations that are manufacturing, distributing and selling counterfeit medicines," says Thomas Kubic, a former FBI agent and president of the Pharmaceutical Security Institute, a group funded by drugmakers.
The growing trade has been fueled by the growth of Internet drug sales and the lure of lucrative profits. The Center for Medicine in the Public Interest expects global sales of fake drugs to reach $75 billion by 2010.
Victims include those like Nneka and Chimezie Ononaku, a couple in Nigeria who unwittingly poisoned their infant son last month after feeding him teething medicine that was contaminated with antifreeze.
Corporations, too, get hit. Drugmakers like Pfizer, whose erectile dysfunction drug Viagra is one of the most counterfeited drugs in the world, potentially can lose billions in revenue to fakes every year.
"It's a big problem and it's getting extremely dangerous for patients," Steve Allen, director for global security at Pfizer, told CNN. Counterfeiters aren't only selling fakes online but are also finding ways to get products in the supply chain, which is alarming, he says.
Last year Pfizer published a report warning men against buying Viagra online as up to 90% of all medicines sold on the Internet are thought to be fake.
Don't Miss
The report stated: "It seems that men are turning a blind-eye to the health risks associated with purchasing counterfeit medicines from unregulated sources and are particularly naive about the ingredients that counterfeit medicines might contain."
Fake versions of drugs can be almost impossible to spot, but can containing inactive ingredients like talcum powder, or even toxic ingredients such as rat poison.
They're also expanding beyond drugs like Viagra. When customs authorities in Brussels confiscated the biggest ever seizure of illegal medicines in Europe last year, it was anti-malaria pills headed for Africa that they intercepted, rather than lifestyle drugs.
Last year UK authorities also seized counterfeit versions of heart attack and cancer treatments.

See photos illustrating the battle against fake drugs »
The pervasiveness of fake pharmaceuticals is difficult to measure. What is clear is phony products are making their way into every corner of the world.
IMPACT -- the International Medical Products Anti-Counterfeiting Taskforce that was launched by the World Health Organization in 2006 -- estimates that the prevalence of counterfeit drugs is less than 1 percent of sales in developed countries.
But that figure rises to over 10 percent for developing countries, and in some areas of Africa, Asia and Latin America, more than one-third of the medicines on sale can be bogus, according to the group.
There is tremendous variation in the prevalence and availability of fake drugs within and across countries, according to Kubic, whose group tracks counterfeiting incidents.
Battling the problem is tough. "There is no silver bullet," says Pfizer's Allen. The drugmaker has invested heavily in high-tech RFID tags that trace its products from supplier to manufacturer. But there is a limited range of tools a private company can deploy.
Observers agree that global partnerships between police agents, customs agencies and the pharmaceutical industry need to be formed in order to successfully combat the problem.
"To get behind an international conspiracy, you need the cooperative efforts of law enforcement, world customs organizations, Interpol and national authorities," Kubic told CNN.

Scientists like Fernandez are doing their part as well. He's currently working on developing a portable instrument that untrained personnel can use in the field to check the quality of drugs.
That just may be the first step to fulfilling his ultimate dream of bringing peace of mind to everyday consumers.
E-mail to a friend

All About Counterfeiting • Medicine • Prescription Drugs