By Elizabeth Landau
CNN





(CNN) -- People who displayed behavioral problems as teenagers were likely to develop mental or personal problems in adulthood, according to a new study published in the British Medical Journal.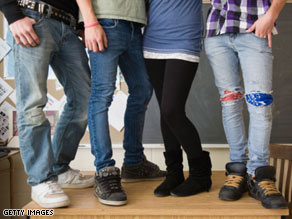 A study found that even adolescents with milder behavioral problems had poor outcomes in adulthood.
The study looked at more than 3,500 people , beginning in the teen years and following them for 40 years. The data came from a national survey of health and development from the Medical Research Council, an organization in the United Kingdom.
Teachers assessed these individuals at age 13 and 15, comparing them with their peers with respect to a number of behaviors. Problematic behaviors included disobedience, lying, lack of punctuality, restlessness, truancy, daydreaming in class and poor response to discipline.
"This research suggests that adolescent conduct problems are indicative of more serious problems in creating and maintaining positive social relationships, and this has a long-term effect on the young adult's ability to maintain good mental health, stable employment, and a happy family life," said Ian Colman, assistant professor at the University of Alberta's School of Public Health and lead author of the study.
The authors were surprised that even adolescents with milder behavioral problems had poor outcomes in adulthood, Colman said.
More than 1,000 adolescents in this study who had moderate, but not severe, conduct problems were more likely to leave school early or be involved in teenage pregnancy, and later in life had increased likelihood of divorce, alcohol abuse, and overall life adversity, he said. These people would probably not get a diagnosis of conduct disorder according to modern criteria, he said.
One caveat is that teachers assessed their students in 1959 and 1961, meaning they may have used slightly different criteria for the problem behaviors from what would be used today, Colman said.
While there are few studies tracking behavior over such a long period of time, a large body of research has arrived at the similar conclusion that problems that emerge in adolescence are risk factors for mental disorders, such as alcoholism, in adulthood.
These results do not necessarily mean that adolescent behavioral problems cause complications later in life, experts say. But the correlation may be due to underlying factors, such as mental illness or a negative environment that do not change over time, said Dr. Martin Iguchi, professor at the University of California-Los Angeles School of Public Health, who was not involved with the study.
"Being born in poverty, many continue in poverty. Having a mental illness that goes undiagnosed, untreated -- it's not surprising that it might continue chronically," Iguchi said.
One might think that people would learn to stop these behaviors and, "as we grow up, and we don't like to do certain things, or we lie because we're trying to get out of doing other things, [we] would come into natural consequences during adolescence which would force us to change our behavior," said Vaughn Rickert, professor at Columbia University's Mailman School of Public Health, who was not involved with the study.
But the period from age 14 to 26 is when people are at the greatest risk for psychiatric disease, he said. On the whole, the results of the study are not surprising, he said.
"Certainly there is a relationship between how you behave in adolescence, and as it's left uncorrected and unchecked by your environment, you're going to continue to engage in those behaviors because those behaviors get reinforced," he said.
As for interventions, experts called for greater investment in resources for children and adolescents with behavioral problems. Iguchi noted that many of the existing resources for adolescents are being cut because of budget concerns.
"We don't even have guidance counselors in schools anymore, and those would be the least expensive of the various options," he said.
E-mail to a friend

All About Elementary and High School Education