Are you feeling a little sluggish after the big holiday blow-out? Have you pledged to make a healthy change in your lifestyle in 2009?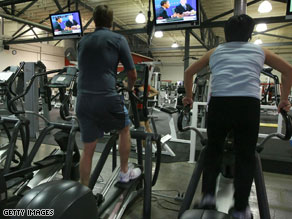 Need to exercise more? Sign up to CNN's new Facebook application Health Pledge and get your friends to support you.
Just in time to help you keep your New Year's resolution, CNN's health show Vital Signs has created a Facebook application, Health Pledge, that allows your friends to support you in your efforts to become more healthy.
When you sign up you can keep your friends updated on your progress and "poke" friends that could do with a little healthy push!
Be it running a marathon, using the stairs instead of the elevator or simply adding more fruit and vegetables to your diet, let Vital Signs help you stay committed to this pledge.
And don't forget, the more friends you get to cheer you on or keep you in check, the more likely you are to succeed!
If you're particularly successful at fulfilling a pledge and dramatically improving your health, your story could be featured on CNN.
So sign up today for the Vital Signs Facebook Health Pledge at:
http://apps.facebook.com/healthpledge/
E-mail to a friend