By Miriam Falco
CNN Medical Managing Editor





(CNN) -- When mothers-to-be and their doctors schedule repeat elective Caesarean sections before the 39th week of pregnancy, the baby is up to twice as likely to experience serious respiratory problems and other complications, according to a study published Wednesday in The New England Journal of Medicine.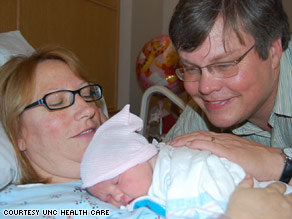 Shannon Eubanks and her husband admire their new baby, Kathleen.
Researchers tracked more than 24,000 women who had repeat C-sections performed at 37 weeks or later at 19 medical centers in the United States between 1999 and 2002. Of those, 13,258 women had elective C-sections, meaning there was no medical reason connected to the mother or baby that required this type of delivery. Instead, the procedure was scheduled as a matter of convenience for the mother or the doctor.
Shannon Eubanks wanted to be one of those moms who scheduled an elective repeat C-section. She was eager to deliver her second child before the end of year. "I'm an accountant, and it killed me that I didn't get the tax break for 2008," she said.
Her first child, Charlie, now 2, was a very large baby (10 pounds) and breach, so he had to be delivered by C-section. She expected her second child to be large, too, but there was no medical need to deliver her surgically.
However, Eubanks says she doesn't normally have family in town, so having the baby around the time of a holiday visit would have given her some additional help after the birth.
According to the American College of Obstetricians and Gynecologists, a nonprofit advocate for women's health care, a normal pregnancy can last from 37 to 42 weeks, but the average length is 40 weeks.
However, the group recommends waiting until the 39th week of gestation for an elective C-section because the baby's lungs should be fully developed by then. Babies born by C-section are at greater risk for respiratory problems, compared with those born vaginally, even at full term. Still, many babies are scheduled to be delivered as early as 37 weeks.
John Thorp, Eubanks' doctor, persuaded her to wait until her baby was 39 weeks old before having the C-section. Thorp isn't just Eubanks' obstetrician and gynecologist, he's also a professor of obstetrics and gynecology at the University of North Carolina and one of the co-authors of this new study.
"It would have been far easier for me to do this last week than this week, too," Thorp said. But he told his patient that she needed to wait, and that by waiting, her baby's lungs would have more time to develop.
This new study finds that having a baby by C-section two weeks, or even three or four days, before the 39th week increases the risk of complications for the baby. It also found that having the baby after 40 weeks also increased the risks for bad outcomes.
"This [study] allows us to know how many elective scheduled C-sections are performed before 39 weeks, " says Dr. Catherine Y. Spong, another study author and chief of the Pregnancy and Perinatology Branch of the National Institutes of Health. "This study is telling us that over one-third of women are having elective repeat Caesareans -- that's not an insubstantial number."
Doctors not involved with the study say this study is important because it gives them concrete data for their patients who are pushing for an earlier delivery date.
Thorp has this advice, based on his research: "When doctors and moms sit down to make this plan, they need to plan the timing of these deliveries no earlier than and no later than the 39th week."
Eubanks' baby girl, Kathleen Conley Eubanks, was born at 8:12 a.m. Tuesday, a healthy 9 pounds and half an ounce.
E-mail to a friend

All About Pregnancy and Childbirth