By Madison Park
CNN





(CNN) -- As a parent, you wake up in the morning thinking about what you should fix for your kids for breakfast. What time do they need to get to ballet or soccer practice? Who should pick them up from school? Then, they're your last thoughts as you go to bed.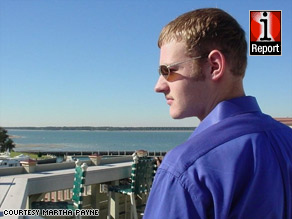 Martha Payne still mourns the loss of her 16-year-old son, Marcus, who died five years ago.
"You're always planning for your children. All of a sudden, one day it's not there anymore," said Patricia Loder, a mother who lost two of her children in a car accident.
Losing a child is like losing the center of your life, experts say.
"Our job as a parent is to protect and raise them, look out for them, anticipate their needs," said Dr. Jane Bissler, a clinical director for Counseling for Wellness in Kent, Ohio. "When a child dies suddenly, your brain just works to try to make sense out of nonsense. It's not supposed to have happened. It's a big reason why [the pain] is so acute and long lasting."
Parents are not supposed to bury their young -- a child's death subverts the natural order of life and death.
Jett Travolta, the 16-year-old son of actors John Travolta and Kelly Preston, died Friday after suffering a seizure, according to Travolta attorney Michael Ossi. He described the boy's death as "the worst day of John's life."
"We are heartbroken that our time with him was so brief," the Travolta family said in a statement. Travolta and Preston also have an 8-year-old daughter, Ella.
Don't Miss
The loss of a child is "the most painful loss that humans can sustain," said Dr. Charles Raison, CNNhealth.com's mental health expert.
It's a sentiment to which many parents can relate.
"When a child dies, it's like a black veil dropped in front of your eyes," said Loder, executive director of the Compassionate Friends, a support group for parents who have lost their children. "Everything you see is through a black veil -- that's the death of a child. How can that basketball game go on? How can life go on when my child is dead?"
The news of Jett's death and the approaching anniversary of her own son's fatal accident affected Martha Payne of Clinton, Tennessee. Her only child, Marcus Payne, died in January 2004 at age 16 after a truck struck him.
"I hardly ever cry, but I couldn't stop crying when I heard about his [Jett's] death," said Payne, an iReport contributor.
Parents are particularly devastated when their children die in their late teens or 20s; they've raised the child who is growing into maturity and just beginning to blossom into his or her own life.
If you're grieving...
Dr. Jennifer Shu recommends these resources for dealing with loss:
Books for adults:
• "The Grieving Child: a Parent's Guide," Helen Fitzgerald
• "The Worst Loss: How Families Heal from the Death of a Child," Barbara Rosof
Books for children:
• "Sad Isn't Bad: A Good-Grief Guidebook for Kids Dealing With Loss," Michaelene Mundy
• "Tear Soup," Pat Schweibert
Web resources:
Journey of Hearts: Resources for surviving grief
Mental Health America: Coping with bereavement and grief
"Part of the tragedy of Travolta is that it's right in that time period, right when the grieving is horrible," said Raison, an assistant professor of psychiatry and behavioral sciences at Emory University School of Medicine in Atlanta, Georgia.
It's also the unfulfilled possibilities that the child could've brought to the world -- the child was going to carry the family name, write a book, contribute to mankind -- and all that is torn away.
"When an adolescent dies, we're in the stage of launching them," said Bissler, a member of the board of directors for the Association of Death Education and Counseling. "When they're adolescents, we start looking to schools, colleges, their first apartment. When they're about to be out on their own, we're looking forward to that. When we're not able to take child-rearing to fruition, we're left with a hole. The child is gone and I can't finish my job as parent. I can't launch this child to adulthood."
Sometimes the parental grief is compounded, because teenagers are often at odds with their parents and their death could have occurred during a difficult time in the relationship.
Grieving parents can fall into blaming themselves for their child's death although it may have been completely out of their control.
"That recrimination is especially painful when there are what ifs," Raison said. "What if we had been there? What if I had taken keys away from the kid? Those are the worst types of incidents that drive people crazy."
These recriminations can make people anxious and depressed. If the grieving parent begins to feel hopeless, useless, lose weight or have trouble concentrating, these could be symptoms of depression.
"When people are really distraught and it goes on for a number of weeks, get professional help," Raison said. "There's nothing that would take away from the loss of child. You don't want to do that. You also don't want to get into a process where it leads to full depression and people can't function in their lives and their other children suffer."
Another issue facing the Travoltas is how to explain to their daughter, Ella, what happened to her older brother.
"Children may regress or act out, and either talk a lot about the death or not talk about it at all," said CNNhealth.com's Living Well expert Dr. Jennifer Shu.
Shu recommended keeping explanations concrete and age-appropriate for children.
"Elementary school-age children understand that death is permanent but tend to have a lot of questions about the logistics of a situation, such as what happens to the body when one dies," Shu said. "Older children and adolescents understand that death is a normal part of life but may become angry or withdrawn."
Shu recommended hugging or holding them and engaging them in activities such as drawing, painting, writing in a journal, telling stories, playacting, reading and playing sports.
Linda Hunt, of Spokane, Washington, likened the grieving process to "entering the deep, deep waters" after she lost her youngest daughter to a car accident in Bolivia. She said she found refuge in gardening.
"I discovered the joy of gardening and planted quite a bit," she said. "I did a lot more planting. ... I'd see a tulip coming through the ground and it gives hope for new life."
Starting a foundation for her daughter also was emotionally helpful, she said.
After Payne lost her son, she and her husband joined a local chapter of Compassionate Friends in Knoxville, Tennessee. "It's easier talking to someone who's gone through the same thing. ... It helps a lot," she said.
But parents never really find peace with the death of their children, Loder said. After losing her 5-year-old son and 8-year-old daughter, she said she learned "to intertwine the death into our lives."
"My children lived and we loved each other and they died," she said. "For a long time, the focus was their death. As time goes on, you begin to transition into the point that you think about their lives and how blessed you were to have them, even when it was for a short period of time."
E-mail to a friend

Katie Hawkins-Gaar of CNN's iReport also contributed to this report.
All About Death and Dying • John Travolta